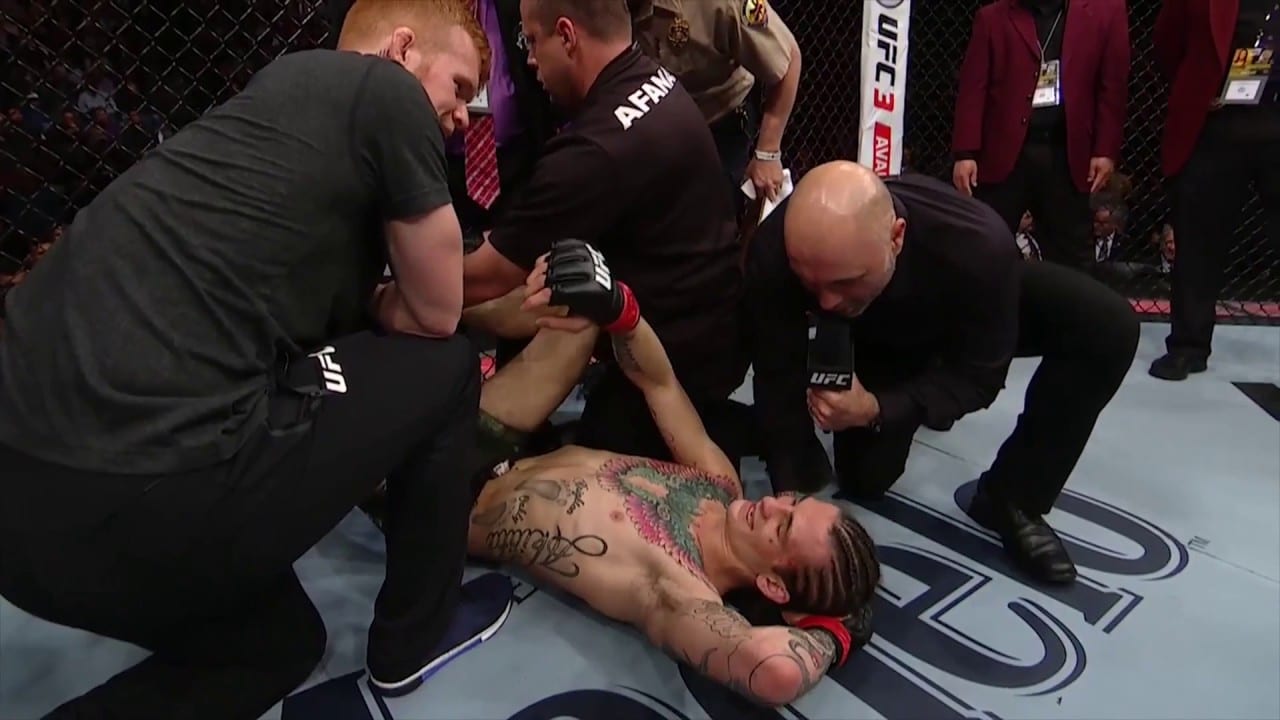 Sean O'Malley is already gaining a reputation as mixed martial art's latest character to watch out for.
In just his second fight under the UFC banner — and at only 23-years old — O'Malley was heavily featured on Saturday night's UFC 222 card. Then, after putting on an entertaining three round scrap with opponent Andre Soukhamthath, O'Malley capitalised on the attention after giving a one-of-a-king post-fight interview.
See, during the bout, O'Malley suffered an injury to his foot. While he managed to mask his discomfort during the contest, and fight through to a judges decision win, as soon as the final buzzer went, O'Malley was stuck to the canvas, writhing in physical anguish. Luckily, the Montana man had enough of his wits about him that when UFC commentator Joe Rogan came over, O'Malley still delivered a promo for the ages.
"I can't feel it right now," O'Malley said of the damaged appendage. "I can't even step on it. I think it was a question mark kick — it really hurts. But nothing a little medicine can't fix after the fight at my after party."
And, despite being in pain, O'Malley only had positive things to share to the Las Vegas crowd — and Rogan himself.
"Me and Andre talked a lot back and forth this fight," O'Malley said. "Nothing but respect for him. Stepping up against a top prospect, knocking him out, and then taking this fight with me. Nothing but respect. I love this game, I love the talk, I love the media. I love everything about this sport. And I fucking love you, Joe Rogan."
–
Comments
comments