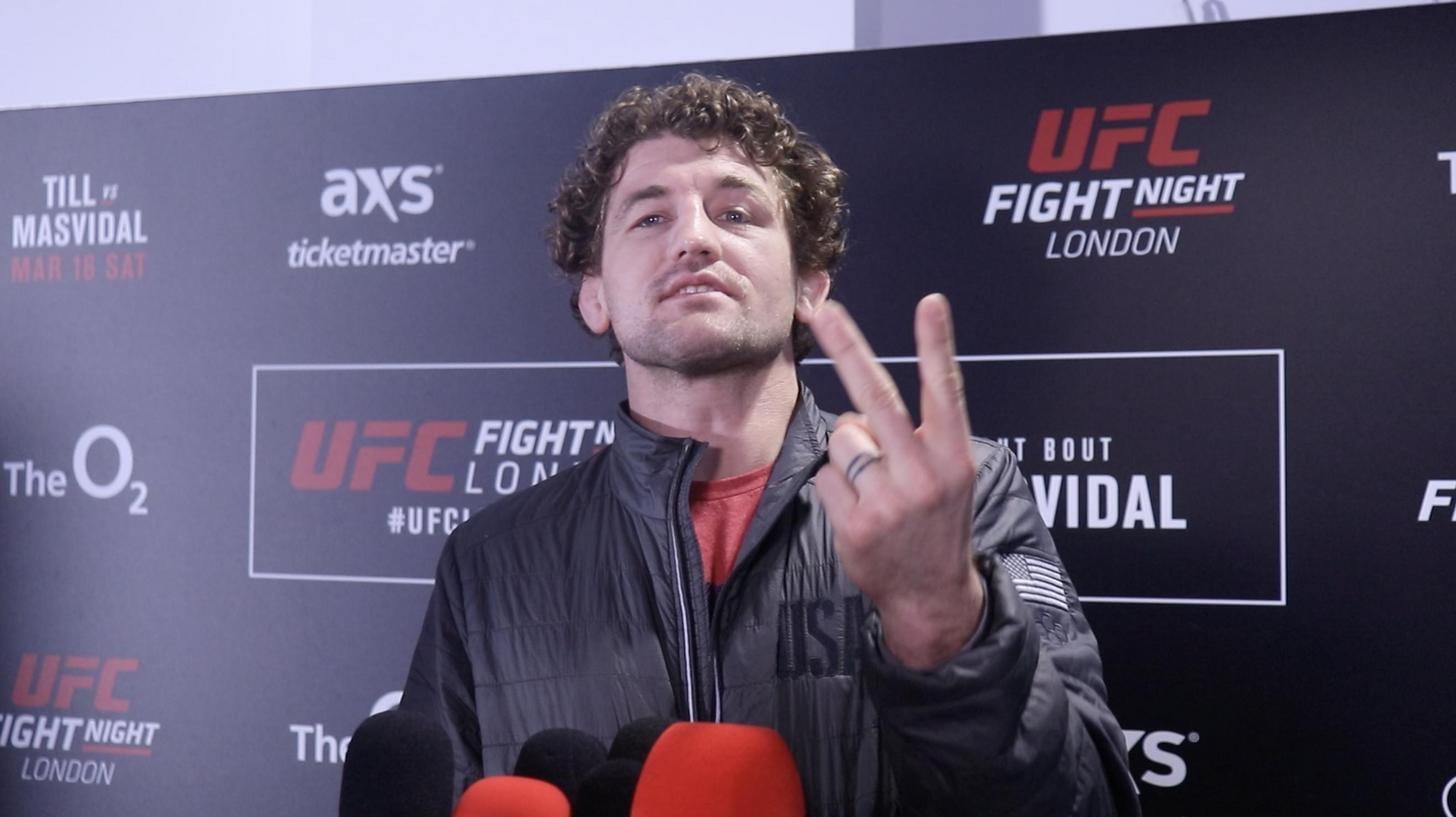 Ben Askren has acknowledged that Jorge Masvidal's character has captured the attention of MMA fans in the past 18 months, even if it pains him to admit it. 
Askren was among a trio of fighters to lose to Masvidal in spectacular fashion during this time, with his loss — by 5-second flying knee KO — being by far the most emphatic of the bunch. The subsequent presser debuted the term 'super necessary' which, added to his already infamous 'threepiece and a soda' line, highlighted Masvidal's knack for being able to say the right thing at the right time.
Speaking with ESPN's Ariel Helwani, Askren acknowledged Masvidal's rise but as you might expect, isn't so fond of the fact that his defeat helped elevate this weekend's UFC welterweight title contender.
"I put the spotlight on him," Askren said. "It is (all me). His Twitter followers, his Instagram followers went 5x, I put the spotlight on him. I played the foil to him. I let him shine. Unfortunately, right? I thought I was going to crush him.
"He says some of these things like 'three-piece and a soda' that maybe isn't intentionally funny but it's really authentic," Askren said. "People love that when he says F-ing super necessary, which I feel like he was kind of a douche for punching me when I was already unconscious. I thought that was unnecessary, but he says it was super necessary.
"And you know what, it is pretty funny. I was the dude that got punched and I'll say, you know what, that was Jorge being real and that was kind of funny. Even though it was me and I thought he was a douchebag for punching me when I was unconscious, it was kind of funny. So, yes, there is a certain authenticity to Jorge that people really, really enjoy."
Askren's opinion of Masvidal comes in stark contrast to that of the champion, Kamaru Usman. Upon entering the UFC, the then-undefeated Askren wasted little time in goading the fighter who he once shared a wrestling training mat with.
"He goes to MMA and all the sudden he has this persona that he's the hardest dude ever and he's so cool, and it's fake!" Askren said. "Everyone sees that it's fake! That's why he can't get fans, because we know it's fraudulent. It's not real and that's why I was so annoyed. That's not the dude that you were. You came to MMA and you thought you had to be this other person, and people are seeing through it. . . People don't like fraudulence. They love it when people are authentic."
That said, and perhaps this can be explained by Askren's loyalty to the sport of wrestling (and his own, unused gameplan for last year's fight with Masvidal), he thinks Masvidal might be in trouble this weekend.
"I would probably lean towards Usman, for sure, but I think there are distinct possibilities where Masvidal will win," Askren said. "I hate saying it. It pains me to say it but yes, I think Usman is going to win and that's so annoying."

Comments
comments