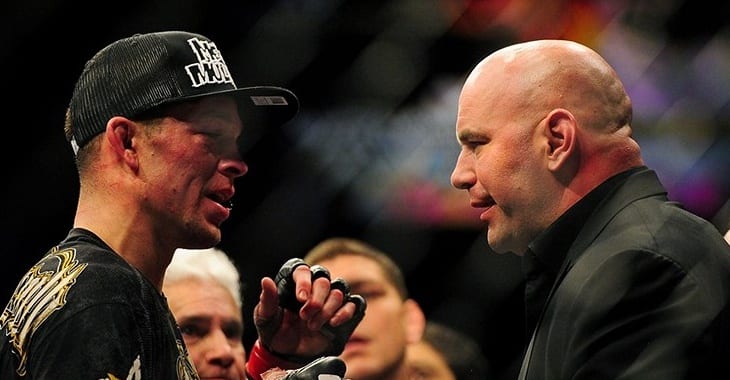 UFC announcer Bruce Buffer seems to have gotten a little bored of what he perceives as constant pouting from UFC welter/lightweight Nate Diaz.
For instance, earlier this month. A few weeks ago, Nate Diaz returned to the UFC after a two year hiatus to attend a press conference, only to walk out of the building in a rage after the UFC played a promo for the newly announced Conor McGregor vs. Khabib Nurmagomedov.
After that, Diaz was aloof as to whether or not he'd really be competing against Dustin Poirier on the UFC 230 card as scheduled, instead stating the UFC would need to start treating and promoting him better.
According to Buffer, that's the wrong attitude. Completely wrong.
"I love Nate, but he's always got a bad taste in his mouth," Buffer said. "Nate, I heard you made 7 or more million dollars on your last fight. I don't want to hear you complaining about being underpromoted by the UFC.
"You should be thanking the UFC and bowing to Dana White every time you see him, Ari Emmanuel, Patrick Whitesell. You've got 7 or more million dollars gross, before taxes, maybe much more – which I love knowing that you have, Nate. Please – I don't want to hear any more."
–
Comments
comments