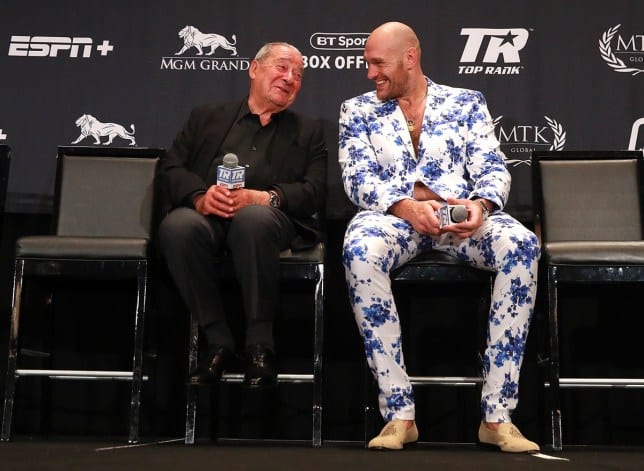 Bob Arum says that any talk of Tyson Fury fighting Anthony Joshua has to end until a third contest between Fury and Deontay Wilder takes place.
Fury and Wilder went into last Saturday night's contest with the contractual agreement that the loser may call for an immediate rematch. After he was soundly beaten by Fury in 7 rounds, Wilder announced through the media on Monday he fully intended on taking up that contract clause.
Despite a third fight being recognised as a possibility, the one-sided nature of their contest in Las Vegas — as well as a very public push by Joshua's promoter Eddie Hearn — meant some fans had wondered if we'd see a third bout being scrapped and Fury moving on to meet Joshua to unify all of boxing's heavyweight titles instead.
According to Arum, who promotes Fury in the United States, that chatter should end.
"What's happening at the moment is that Fury has a contract with Wilder," Arum said, speaking to World Boxing News. "Wilder, unless he opts out, has the absolute right to call for the third fight based on a 60-40 split. As far as Fury is concerned, and as far as Top Rank are concerned, we are men of our word. We have a contract and we are not running off to fight somebody else. We are not breaking the contract and we are going to honor that contract with Wilder."
It's believed a third Fury vs. Wilder bout is being looked at for July, while Joshua is more than likely to meet Kubrat Pulev in June.
"I think Wilder will give a much better performance in this fight than he did in the last fight," Arum said. "But that's it. End of Fury (vs Joshua) talk."
Comments
comments