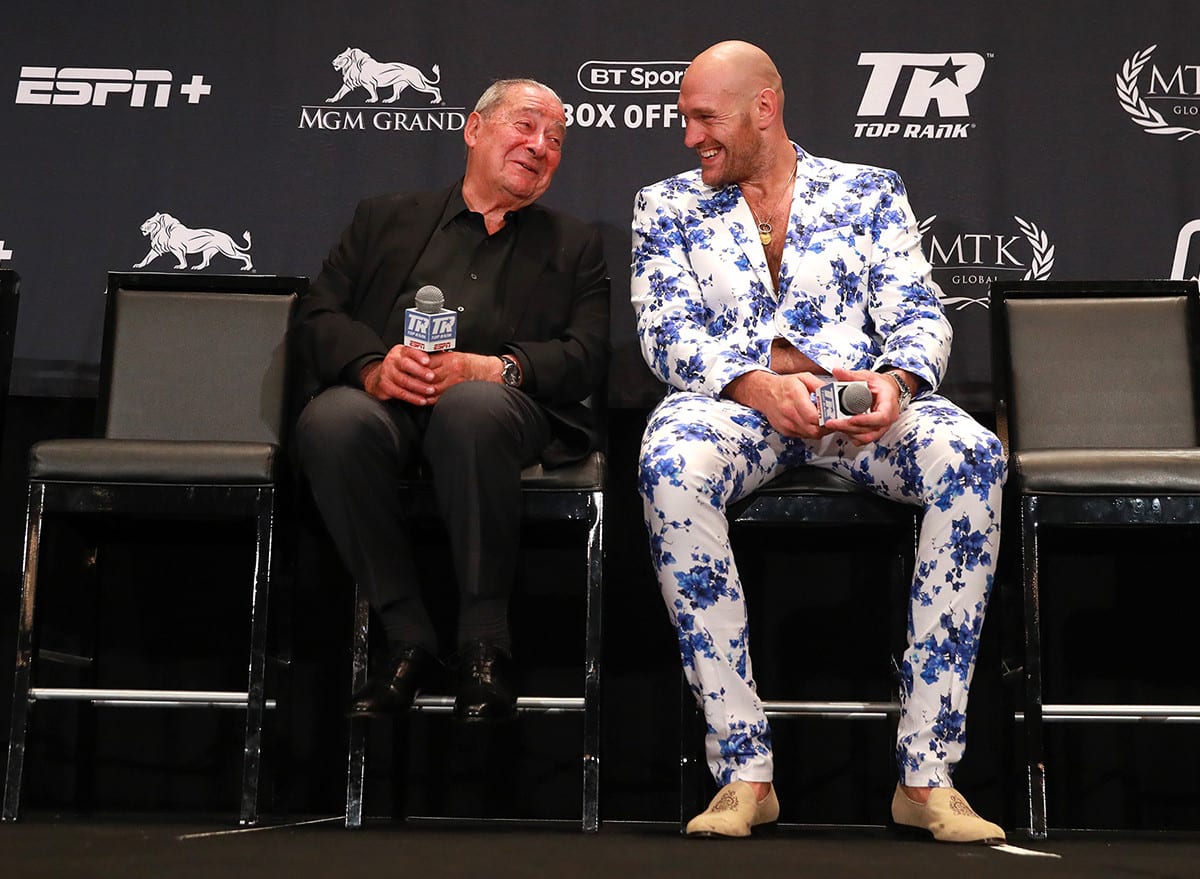 Bob Arum is hoping that a resolution can be found to avoid a demanded Deontay Wilder versus Tyson Fury III.
Earlier today, an arbitrator ruled in Wilder's favour that Fury and his team had indeed ignored a rematch clause that should still be counted as valid. Retired judge Daniel Weinstein declared that Fury must grant Wilder a trilogy fight by September 15 of this year. The motion could be enforced in court.
Fury had been all ready and set to meet fellow Englishman Anthony Joshua in a unification bout for all the heavyweight titles — a historic moment made even bigger by the two men's contrasting characters. As of now, that contest seems in jeopardy, a fact that stings even more knowing how long fans had to wait for negotiations to come to fruition.
Speaking to Chris Mannix of Sports Illustrated, Fury's promoter Arum — who had previously stated Wilder's case had no merit — admitted the news was a blow and a "preposterous decision," but he hoped to push on with the August 14 meeting of Fury and Joshua, noting, "you get knocked down, you gotta get back up."
Bob Arum calls the arbitrators ruling on Fury-Wilder a "preposterous decision." Says the plan is to move ahead with Fury-Joshua in August and try to sell Wilder on facing the winner in November/December.

— Chris Mannix (@SIChrisMannix) May 17, 2021
Arum admits the ruling is a setback. Says he is "terribly disappointed" by the decision and that the Fury-AJ contract will have to be amended. "But you get knocked down, you gotta get back up," Arum told @SInow.

— Chris Mannix (@SIChrisMannix) May 17, 2021
In truth, a third meeting between Wilder and Fury would likely be the underwhelming option. Fury handily dispatched the American to win the WBC heavyweight title last year, and since then Wilder's fandom has only dwindled after his series of bizarre excuses.
Comments
comments