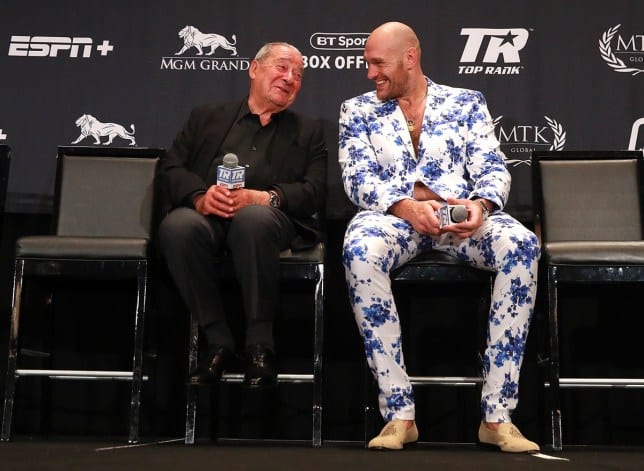 Bob Arum says we might not get Tyson Fury vs. Deontay Wilder III until late this year — and that's the earliest.
Fury and Wilder were set to meet in July to finish off their trilogy, only for the coronavirus pandemic to scupper those plans. Now, Fury's promoter Arum says he can't see the two meeting for quite some time as he feels fans need to be in attendance for the contest.
"I talked to Tyson Fury on Sunday and I told him the earliest I thought the fight could happen is November. Who knows even about November?" Arum said, speaking to BoxingScene. "Obviously, we cannot do Fury and Wilder without an audience. If you are going to do it with an audience, are people going to be willing to get on a plane and come to Las Vegas? So many of the fans come from the UK. A lot of that has to be taken into account. Maybe it doesn't happen until next year."
For those wondering why Arum is so deadset on having a crowd in the arena, it's worth remembering the second and most recent fight between the two charismatic fighters drew a reported gate of $16.9 million — a record for a boxing heavyweight fight in Nevada.
And, while Arum's rival Dana White might be willing to hold fights in empty venues, Arum says he won't be coaxed into making bold predictions..
"This is how the world is developing, and I don't have all of the answers, or part of the answers," Arum said. "These are not boxing questions anymore … We're not Dana White. We're going to proceed consciously with the regulations of states so participants are protected during these trying times. We're not going to go off on our own and say, 'the show must go on.' The show doesn't have to go on."
Comments
comments