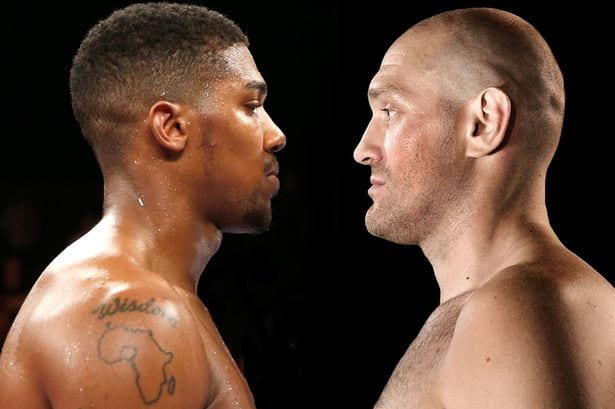 Anthony Joshua was left frustrated by Tyson Fury's sudden arbitration issue with Deontay Wilder causing their undisputed title fight to be scrapped at the last minute.
Fury and Joshua were nearly all in agreement to box in Saudi Arabia, only for an arbitrator to rule in favour of Wilder to have a trilogy fight, raising questions as to why Fury and his team would negotiate knowing there was a possibility they'd be unable to compete. For Joshua, it's all an irritating side effect of boxing, and one he's happy to settle with Fury at any point the Gypsy King wants to step into the ring.
"Without the belts? I rate that. That's what I'm talking about. We'll fight, 100 per cent, let's do it," Joshua said, speaking to Sky Sports. "I'll smoke that guy. I will. It's annoying. For me, I don't really get into the Twitter back and forth, because it's Twitter fingers. Anyone can sit behind a computer and talk. Let's be real, let's be honest. Let's let the people know. You're the one that let the fans down, because everyone seems to think…
"I fought on December 12th. When they were like, 'Who do you want to fight next?' I said I don't want to call out any names, and I know because I'm going to start shouting out people's names and I'm going to be in this position now where the guys' name I'm shouting out doesn't want to fight or he's not ready to fight."
Either way, while he won't expressly say his opinion on Fury, Joshua did say he doesn't look at any potential rivals in his division as a friend for later.
"I don't know. I don't look at anyone in my industry like that. They are just people that I want to fight," Joshua said. "I haven't got no time for none of them. I'm not friends with no one. They are all enemies at the end of the day."
Comments
comments