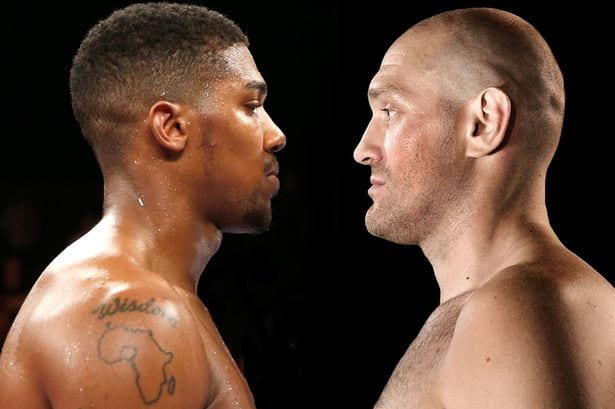 Anthony Joshua believes he can defeat Tyson Fury in six rounds should they ever meet in one of boxing's most anticipated clashes.
The two Brits currently share boxing's heavyweight titles, and while they both currently have bouts scheduled ahead of them, it seems with mutual victories there would be no more roadblocks for a massive unification fight some time next year. If it takes place, Joshua says, it's going to be far more one-sided than people believe.
"I have a lot of respect for the man, he's a good family man and a good fighter, but on the other hand, I want to break his head," Joshua said in an appearance on 'A League Of Their Own'.
"First six rounds, I think, well I know I'm going to take him out then. I have had a shorter career, so I'm fresher. I've been in the deep end longer so I can handle the pressure and I believe I'm going to take him out. Fury drew the first and then rejigged his game plan and took Wilder out and schooled him really but I think I'm faster than Wilder anyway, call it what you want, I believe I'm better."
It's not the first time either man have bragged about their boxing superiority to the other. It's not even the first time this week, as Fury told Joshua and his promoter Eddie Hearn to hurry up and get ready for the clash of the century.
"For the fans, you want the biggest fights possible and the biggest fight out there now is me and Joshua," Fury said. "So let's make it happen. Stop running away, stop making excuses, put your nuts in your handbag and let's get to fight."
Comments
comments