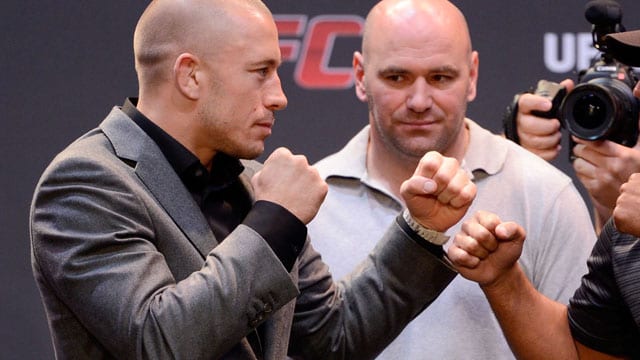 Georges St-Piere isn't convinced the UFC are truly interested in booking a fight between himself and Khabib Nurmagomedov, and considers the odds of the contest taking place, "incredibly low."
Nurmagomedov has long cited St-Pierre as his dream opponent, but in an interview with BT Sport, the retired middleweight and welterweight champion St-Pierre admits he's reluctant to get too sucked into the idea unless he's assured it will ever actually come to fruition.
"It's tempting and I still train hard," St-Pierre said. "Now it's COVID, so of course it's different. It's illegal to train combat sports here but I always train hard and I still get it. I feel I am at my best but the fighter is always the last one to find out when your time is up."
Despite the fact UFC president Dana White recently said he would look into making the bout should Nurmagomedov defeat Justin Gaethje in October, St-Pierre believes the promotion would rather not see him return to activity, win a world title and retire again — as he did with the 185-pound belt in 2017.
"I don't know. It takes three parties to make a fight," St-Pierre said. "It takes one opponent, another opponent and it takes the organization, as well. I don't know if the organization would want that. I run away with the welterweight, I run away with the middleweight and they assuredly don't want me to run with the lightweight."
–
Comments
comments