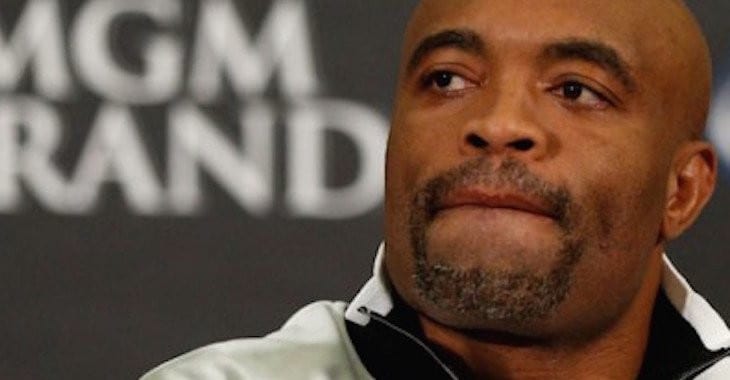 Anderson Silva wants to fight in Brazil at UFC 212, and his lack of an opponent — or even assurances that he'll be on the card — has him pissed.
Speaking on MMAFighting's The MMA Hour, Anderson Silva revealed that the UFC had given him many assurances that haven't been met, and now that it looks as if he won't get to fight in front of his home country, he's reached the end of his rope.
"I'm very disappoint for a long time with the UFC," Silva said. "I'm sorry but this is my opinion. I dunno what happened. I've stayed [in Rio] for a long time for training. This is not my fault, for the Gastelum go out the fight. This is not my problem. My problem is training hard for fight in Brazil, for my fans. What happens to my fans now? What happens to the people pay the tickets to see my fight in Brazil?
"When I sign my last contract, Dana White and Lorenzo [Fertitta] say 'okay, when Georges St-Pierre is back, you go to fight super fight. You and Georges St-Pierre'. I don't know what happened, nothing happened. Georges St-Pierre is back to fight, and is back to fight for the belt. It's terrible. This don't make sense. I know this is a fucking business, but I'm working hard for a long time, I help the UFC a lot. I save the UFC all the time."
It seems that Silva's issues essentially stem from a combination of St-Pierre being immediately awarded a middleweight title fight upon his return, particularly against a man that Silva considers himself to have beaten, and that the UFC have been unable to provide him with an exceptional fight at UFC 212.
With the St-Pierre now having been taken away from him, Silva wants a big fight to make up for it, and while the UFC had spoken to the Brazilian about the Romero fight, Silva and Romero both feel that a fight between the two makes little sense without a belt on the line, even if it's an interim.
"I no go fight Yoel Romero in Brazil for nothing," Silva said. "I talk to Yoel Romero's team, and me and Romero on the same page. Let's go fight, yes, let's go fight but for interim belt. It not make sense for me and Yoel Romero to fight for nothing."
And even more shocking, Silva feels so disrespected, and feels as if he is losing out on so much, that should something drastic not change and a fight emerge at UFC 212, he's prepared to retire and walk away.
"It's complete bullshit. I'm sorry, but I'm tired for saying to UFC 'okay, UFC, okay'. I'm so tired.
"What the fuck is going on? … If this fight no happen in Brazil, I'm done, I no fight more. … I'm working for long time in this fucking bullshit job and nothing happened."
—
Comments
comments