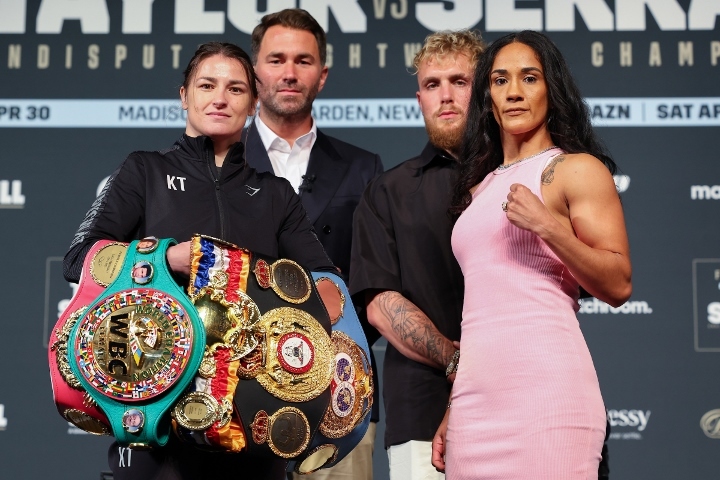 Amanda Serrano had several kind words for Katie Taylor in the aftermath of her first professional boxing defeat last weekend — but she said that a rematch of the pair's classic Madison Square Garden bout now looks unlikely to happen.
Taylor was outpointed by the UK's Chantelle Cameron in her first-ever pro bout in her home country in front of a packed but ultimately disappointed capacity crowd in Dublin's 3 Arena last Saturday evening as the two undisputed world champions went toe-to-toe for ten rounds in the Irish capital.
And Serrano, who Taylor handed just her second defeat in 47 fights last year in New York, was full of praise for the Irish star when speaking to Ariel Helwani on The MMA Hour (via MMA Fighting) this week — but added that a sequel to their first fight now looks improbable.
"Definitely, I think it did," said Serrano when asked if she felt the result harms the chances of second fight between the two. "Katie is a warrior. She's a fighter. She's a true fighter, and she's going to want to get that back. I know that's going to be on her mind, 100 percent. Losing hurts. It does. It sucks big time. And it being home must have hurt her a lot more. I'm just hoping she can mentally be ready for the rematch. I respect what Katie's going to do, and that's get the rematch.
"Maybe [it will only be] delayed if she comes out on top, beating Cameron, which I don't think that will happen. But if she does, then maybe the rematch with me will happen. I just hope that Katie does the right thing and she wins."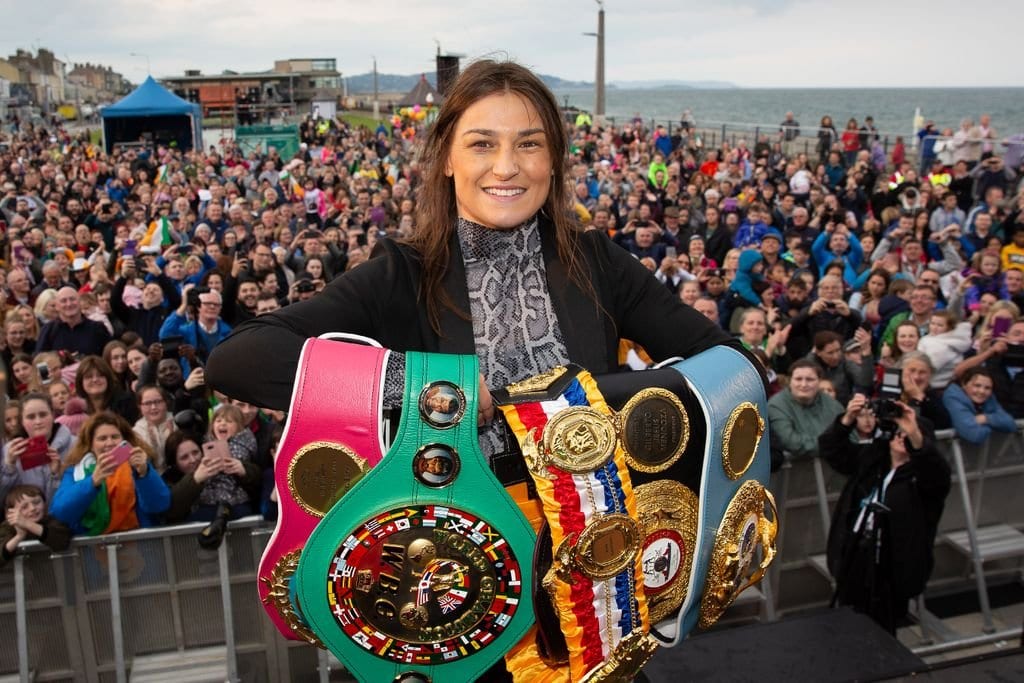 Serrano was slated to the be initial opponent for Taylor in Dublin before an injury in the lead-in forced her out of the fight, and while the Puerto Rican is still aggrieved at the result of their split decision, she acknowledges what the fight meant for women's boxing as a whole.
"I've been over it," she said. "Like I said, it definitely hurt, but I feel like I did everything right. I feel like I won, my team kept encouraging me, my island of Puerto Rico, they told me every second that I won that fight, so I was happy with just that. That I did what I had to do to showcase — I was going up two divisions! People don't understand that. Katie went up one division, and look what happened. I went up two divisions.
"So I feel like I deserve the respect going out there and doing what I did to Katie. I felt like I hurt Katie multiple times in that fight, Cameron didn't do that. There's no regrets. I enjoyed that night with Katie Taylor, it was a great night for women's boxing, and I moved on, I became undisputed champion where I belong, at featherweight.
"I'm at peace. It's been years and years of 'Katie Taylor, Katie Taylor.' I was like, 'Oh my god!' Honestly, once I got the fight, I was like, 'Thank god! I do what I have to do, and then I don't have to hear Katie Taylor's name again.' That didn't happen. [Laughs] It was always, 'Katie, Katie, Katie.' But I'm glad how I performed, I'm glad what I did after that — became undisputed champion — and I'm content with my career."
Comments
comments