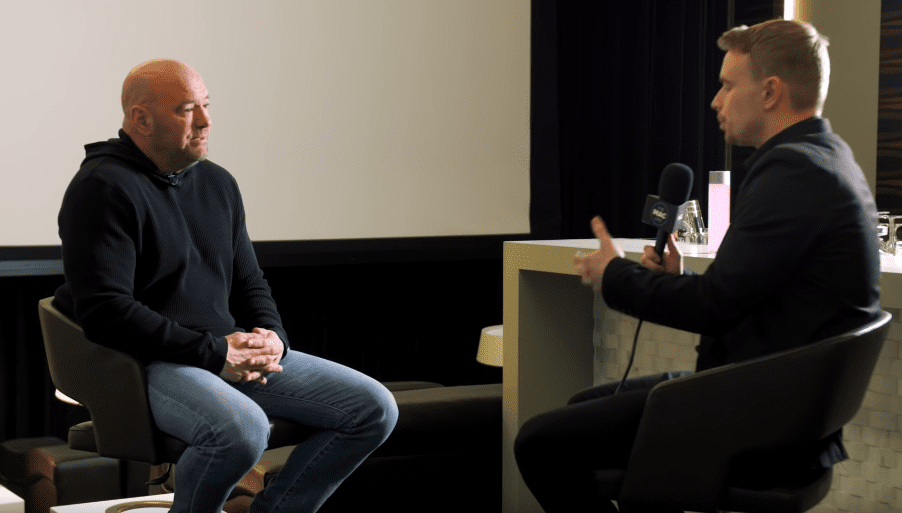 Of the people anticipating the return to action of Conor McGregor this weekend, UFC president Dana White is near the top of the list.
McGregor, of course, has become the biggest box office attraction in the history of the sport during his tenure with the organisation and White says that there is a little extra spice in the air during a Conor McGregor fight week.
"Obviously Conor always brings a level of excitement and a 'what's going to happen?' type feeling, so it's good to have him back," White exclusively told The Mac Life from the UFC Performance Institute on Monday. "Anytime any of the big stars are coming back to fight, it's exciting. I love this sport, I love the energy of fight week and I love fight night. To have Conor back is fun."
One narrative that White was keen to dispel what that McGregor's extended absence from competition has hurt his drawing power, something that some are speculating will be reflected in the UFC's bottom line once the numbers are tallied this weekend.
"You talk about the people that have insight into the business and say these things, they're all full of shit," White explained. "None of them know what they're talking about and literally none of them know anything about this business. Not one of them know anything about this business. We knew what the Conor fight would do. Obviously, we're the ones that set the price for tickets and all the things that go along with the business. Conor's coming in here pulling a $10.6 million gate. The fight is off the charts.
"As far as ESPN and what's going on there with pay-per-view and everything else, everything is as usual."
Headlines were made following McGregor's interview with Ariel Helwani on ESPN this week when he estimated that he expects a financial windfall of around $80 million for his work inside the cage on Saturday night — a sum which rivals even the biggest paydays in boxing,
"Conor is a massive superstar in this sport. He's a phenomenon," White said.  "The kid's been making big money since the day he stepped in. From day one, when he fought he started to [rise]. Nothing has changed. Obviously he needs a win on Saturday. It's a big deal for him to get back here and win this fight."
Of course, there will be a second man in the cage on Saturday night and White makes a point of emphasising that Donald Cerrone, holder of numerous UFC records, is not to be overlooked.
"Cowboy Cerrone is one of the best ever, holds a ton of records in this sport and loves to be the underdog," he said.  "A lot of people wrote Cowboy off like Conor is coming back and getting a layup. This is not a layup at all. Conor's in great shape, he's ready for this fight and he needs to be.
"Cowboy is a top five fighter in the world. Don't ever underestimate a top five fighter in the world. It's very, very hard to get into the top five in the UFC and Cerrone has been around for a long time. He's fought everybody, he's been around in big fights and he's got more fights at 170 than Conor McGregor does. This isn't a layup for Conor, this isn't an easy fight. This isn't 'Welcome back, Conor. Here's some easy money' and an open door to Khabib."

Comments
comments