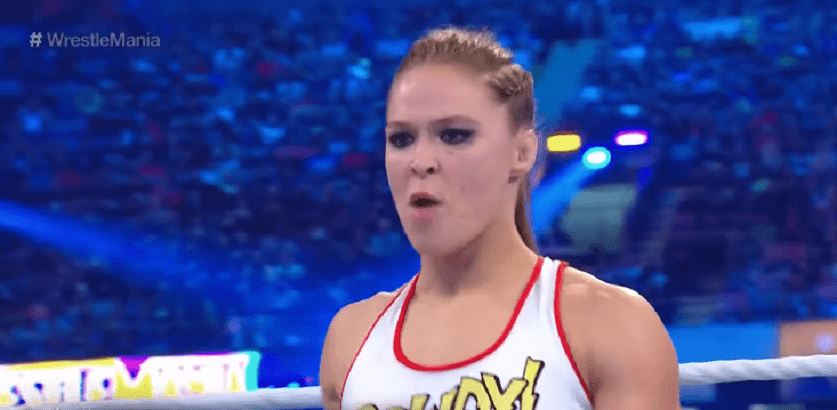 Ronda Rousey has a new day job and, if Sunday night's Wrestlemania is anything to go, she is going to be very, very successful in it.
Rousey, the former UFC women's bantamweight champion and Olympic medalist, made her first official in-ring performance at Wrestlemania 34 in New Orleans where she teamed with fellow Olympic medalist Kurt Angle to defeat the Triple H and Stephanie McMahon in a match being hailed by professional wrestling media as one of the best debuts in the company's history.
In her first ever professional wrestling match Rousey, who has been a lifelong WWE fan, didn't just look passable — she looked like a natural. While not yet a seasoned performer (that can only come with time), Rousey displayed an undeniable reverence for the practice, as well as an aptitude for the storytelling element of sports entertainment.
As for the match itself, Rousey — who paid tribute to the late 'Rowdy' Roddy Piper with her entrance and attire — was booked as the world class athlete that she is. Her famed armbar, the vanquisher of so many of her rivals in mixed martial arts, was presented as a constant threat throughout, though some purists were unhappy about how Stephanie McMahon was able to reverse the move on a few occasions. Instead, they say, her armbar should be a 'checkmate' move, an instant finisher.
ROWDY @RondaRousey is PLAYING THE GAME!#WrestleMania pic.twitter.com/1vBO7aiigG

— WWE WrestleMania (@WrestleMania) April 9, 2018
However, those are just minor quibbles for now. The real story coming out of Wrestlemania is how at ease Rousey looked and how she participated in a number of spots in the match, on professional wrestling's biggest stage remember, which would have put some of her peers to shame. There was a hurricanrana on Triple H, a sequence in which she outstruck the multiple time WWE champion with strikes and a hugely impressive moment when she essentially deadlifted the roughly 240-pound wrestler.
In the end, as was always going to happen, Stephanie McMahon submitted to the armbar but the remaining narrative isn't just the success Ronda Rousey enjoyed on her debut, it is the bountiful professional wrestling career which now appears to be stretching out in front of her.
.
Comments
comments