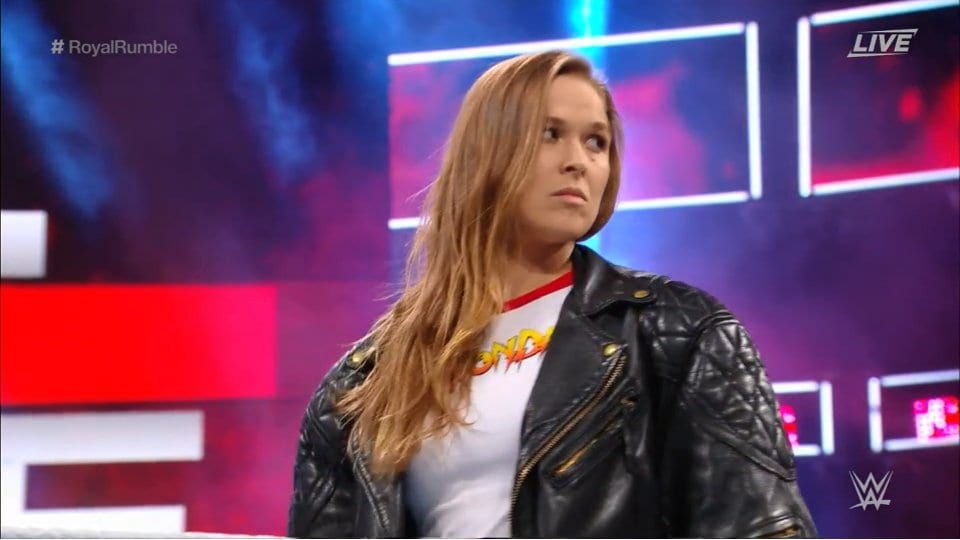 Ronda Rousey is officially a WWE Superstar. 
The former UFC women's bantamweight champion made her promotional debut for the professional wrestling company on Sunday night at the WWE Royal Rumble. Appearing after the culmination of the main event, Rousey walked to the ring and interacted with three of the biggest female stars in the sport.
It was the culmination to months of reports, where many had speculated Rousey would be joining the company and leaving her life of fighting behind. And while Rousey may have made a one off appearance with the wrestling company in the past, this time around, she's involved in a far larger capacity.
"This is my life now. First priority on my timeline for the next several years. This is not a smash-and-grab; this is not a publicity stunt," Rousey said, speaking to ESPN's Ramona Shelburne. "When I first met with Triple H, I told him, 'There are other things I can do with my time that'll make way more money, but I won't enjoy nearly as much'.
"It's funny, it's kind of like acting, in that it was something I always wanted to do but I never thought was in the cards for me. And now that I realize I really do have this opportunity, I feel like my 6-year-old self would totally kick my ass if I didn't take it."
Comments
comments