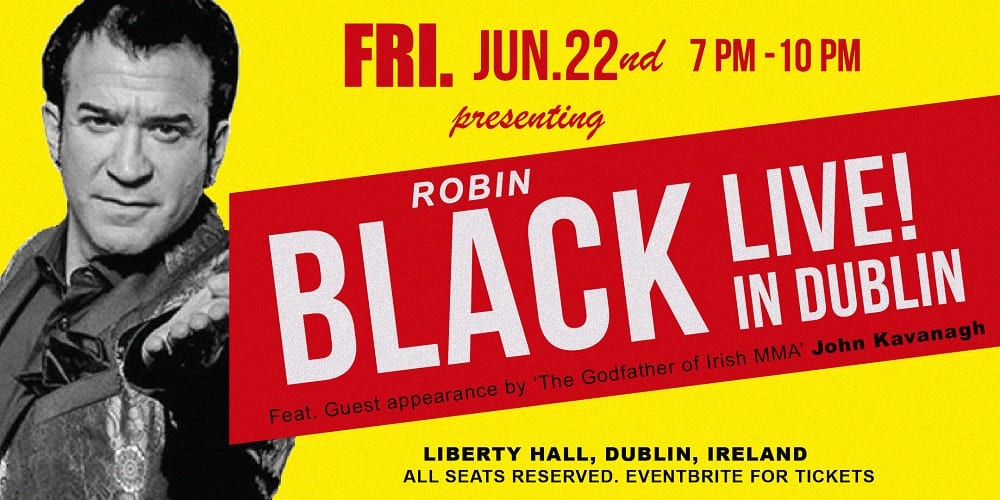 Have you ever woken up in the middle of a cage fight? Have you ever overdosed in the green room of a concert hall? Have you ever convinced yourself that you can out-drink a Sumo wrestler? Robin Black has. And he has made a career out of it.
Black, the glam-rocker turned mixed martial artist turned analyst & commentator, will bring his live show outside of his native Canada for the first time ever to Dublin's Liberty Hall on June 22nd for an evening of mixed martial arts, comedy and a whole lot more. Tickets are available via the link below.
In Robin Black Live!, Robin uses humour, storytelling and philosophy to share his journey from glam rocker, to mixed martial artist, to television personality. The show, part TED Talk and part stand-up comedy, offers audiences advice on how to make the best out of almost making it. In addition to that, Black will be joined on the night by SBG Ireland head coach John Kavanagh for a Q&A session.
Don't miss your chance to see one of mixed martial arts' most unique voices in a live setting this summer in one of Ireland's most historic venues.
Visit Eventbrite for tickets ranging from early birds (available now) to the full VIP 'A Pint with Robin Black' experience.
.
Comments
comments