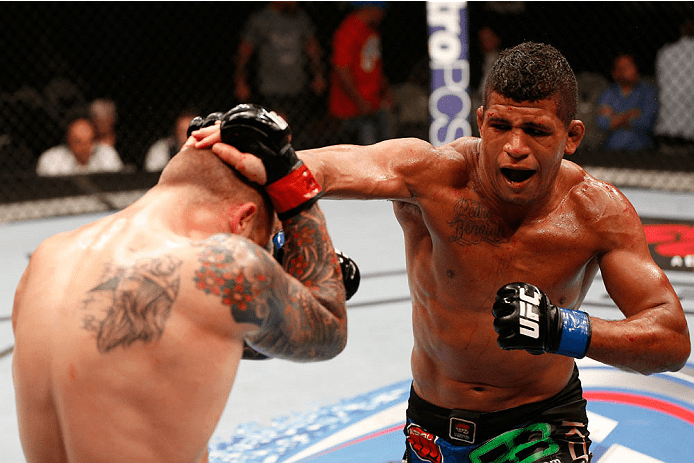 Yesterday the UFC took the step to cancel this weekend's scheduled lightweight bout between Gilbert Burns and Olivier Aubin-Mercier in Orlando, determining that Burns would not have safely been able to make weight ahead of Friday's weigh-ins.
This was a peculiar but welcome move by the UFC. Medics came to the conclusion that Burns could potentially have harmed himself in his efforts to make the 156-pound weight limit. Generally speaking fighters are required to report on fight week requiring to cut no more than 8% of their body weight and Burns put this policy into practice by allegedly showing up needing to cut more than 30-pounds, or 20% of his overall weight.
The UFC announced the cancellation of the bout on Wednesday.
In a statement, the UFC said: "Saturday's UFC Fight Night bout between Gilbert Burns and Olivier Aubin-Mercier has been removed from the card at Amway Center in Orlando. Upon his arrival, the UFC medical team determined that it would be unsafe for Burns to cut additional weight necessary to meet the 156-pound limit. The card will proceed as scheduled with twelve fights."
Per BloodyElbow Burns would have needed to dehydrate himself to the point of potentially causing severe health problems for himself. Medics consider dehydration over the range of 10% to be a severe medical issue and to be potentially life-threatening. Burns was expected to require dehydration percentage of 15% to successfully make his contracted weight.
Burns has never missed weight in his 15-fight professional career.
Had Burns been allowed to weigh-in, aside from the health risks associated with that, it is probable that he would have missed weight necessitating the bout being commuted to catchweight. He would also have been mandated to forfeit 20% of his purse to his opponent.
The practice of weight-cutting has come under increased scrutiny in recent times, with several figures from within and outside of the sport condemning it as unsafe and calling for reform.
Some athletic commissions across the United States have implemented steps to attempt to safeguard the practice. In California, fighters are required to present themselves on fight week needing a weight cut of no more than 10% of their body weight. Failure to do so may require them to move up a weight class.
The UFC has no specific policy in place but has on several occasions (Gastelum, Hendricks etc.) mandated that certain fighters move up a weight class if they miss weight on more than on instance.
Comments
comments