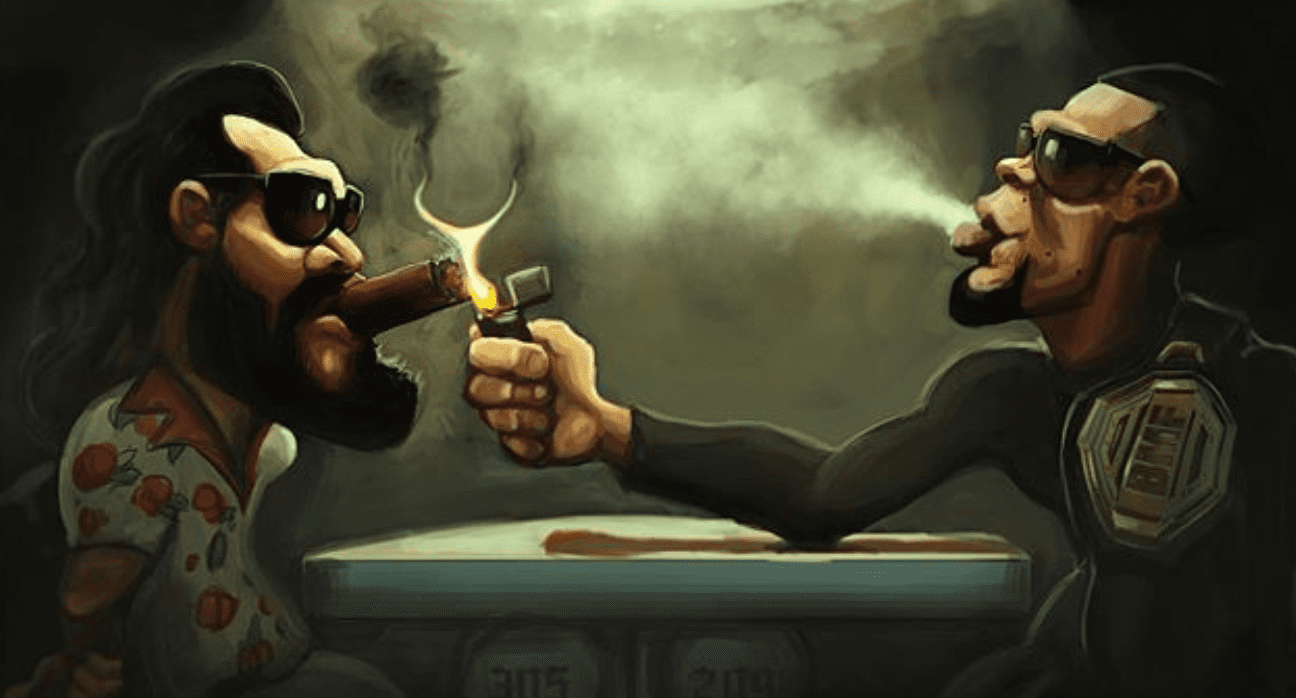 It can be difficult to stand out in the crowded field of fight promotion, particularly in this digital age we live in nowadays.
The advent of social media, and in particular Instagram, has provided a platform for content producers, artists and graphic designers across the globe to make their own imprint in the fight game. Some, obviously, are better than others but in the democratic world of social media, which is governed by 'likes' and 'shares', the cream eventually rises to the top.
Perhaps as a riposte to the array of vanilla fight posters issued by the UFC in recent years, one artist has taken it upon himself to release his own work — and it has gone from strength to strength. Dosbrak, who Joe Rogan describes as "insanely talented", has made a big impact in the field recently, even to the point of Rogan asking to provide artwork for his The Joe Rogan Experience podcast.
The Cork native has released a string of outstanding images in recent years in conjunction with some of the biggest fights in combat sports, with his profile growing with each one. Now, the UFC are even on board. If you can't beat 'em, join 'em.
View this post on Instagram
The insanely talented @dosbrak with another gem! #Repost @dosbrak with rep0stapp
• • • • • • •
Marshall!!! 🐕 #elk #dosbrak @joerogan https://t.co/0F4kgcWuDG

— Joe Rogan (@joerogan) August 25, 2019
Little is known about the Irishman, but this is by design. His website is strictly a conduit to his work and you will not find any extraneous information about him. His work, sources say, does the talking and any spotlight that comes from it is more often than not shied away from.
Hell, we're not even sure what his name is, like some sort of MMA Banksy.
But if Dosbrak remains something of a mystery, his work certainly doesn't. Odds suggest that if you're a fight fan, you have seen some of his work — and you wouldn't be alone. His work has been embraced by the likes of Conor McGregor, Jon Jones, Nate Diaz and even Mike Tyson.
View this post on Instagram
The above image is that of Dosbrak presenting Tyson with an image he made for him during the former boxer's speaking engagement in the Irish capital last year, adorned with a border decorated with 24 carat gold leaf and featuring lyrics to Tupac's 'Ambitionz Az A Ridah', a walkout song used by the former world heavyweight champion.
Dosbrak has also turned his attention to next month's hugely-anticipated 'BMF' title bout between Nate Diaz and Jorge Masvidal in Madison Square Garden, capturing the essence of the fight in a manner not often achieved the UFC's native promotional department. ESPN, the chief broadcaster of the UFC, has also pushed out some of Dosbrak's work as promotional material for the November 2 fight.
The design takes in all of the atmosphere ahead of the UFC 244 card in New York City, showing Masvidal and Diaz hanging out in an NYC cab (hilariously being driven by co-headliner Darren Till in a nod to his Tenerife troubles earlier this year), all while The Rock (who is also a noted fan) surveys from afar with the 'BMF' title around his shoulder.
The collaboration between Dosbrak and the UFC appears to be one beneficial to both parties; the UFC get access to unique imagery and Dosbrak gains access to one of the largest platforms in the world.
And if the man behind the art is a mystery, his work won't be for very much longer.
See more on Dosbrak's Instagram
Main image: Dosbrak/Instagram.
Comments
comments