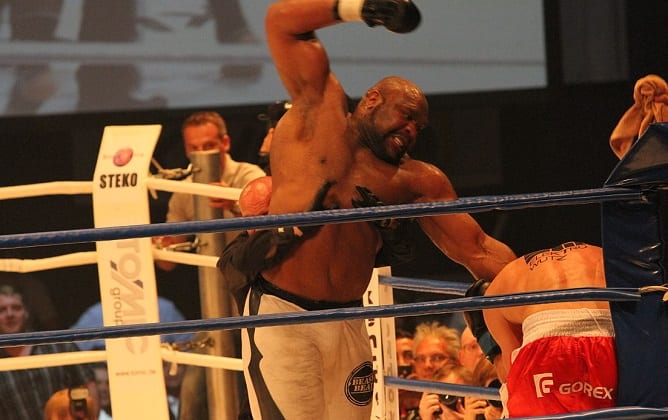 Longtime fans of the sport will remember a time when Bob Sapp was legitimately one of the biggest stars in mixed martial arts.
The former professional football player became a superstar in Japan owing to a series of bouts under the PRIDE banner against legitimate opponents like Antonio Rodrigo Nogueira and Jerome Le Banner, causing several high level opponents trouble thanks to his gigantic 6 foot 5 frame and a willingness to trade punches with anyone.
In his later years, however, that particular strategy has changed somewhat. Sapp, now 44, is 2-18 in his last 20 MMA bouts as well as posting a 2-13 record on his kickboxing ledger dating back to 2005 and these days, he seems to be trotted out into various fights to lose to the hometown hero of whatever town he happens to be in.
So, with Sapp not proving particularly competitive against human opposition lately it seems as though he has switched his attention to the animal kingdom and if reports coming from Japan are to be believed, Sapp's next fight will be against a bear. On New Year's Eve.
Japanese promotion Kyokugen is holding an event later this month in which the Sapp vs. Bear contest is one of the featured attractions. If you are struggling to get your head around this as much as we were, watch the video below for some context. Trust us, it's in there somewhere.
Bear by armbar, round one.
Bob Sapp vs. wild bear footage. Cancelling NYE plans. (h/t @spamtimecomeon) pic.twitter.com/yMFLF00rU1

— caposa (@Grabaka_Hitman) December 20, 2017
Was looking up KYOKUGEN 2017…. and discovered that Bob Sapp is going against a wild bear on NYE in Japan. No details on the competition.

Someone please explainhttps://t.co/z8YfV7pkek pic.twitter.com/AMfYjme6VU

— caposa (@Grabaka_Hitman) December 20, 2017
Comments
comments