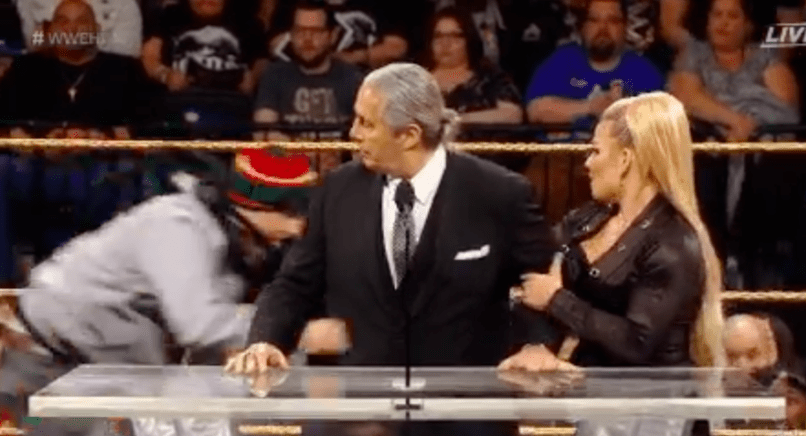 Sometimes professional wrestling can go off script.
As Saturday's WWE Hall of Fame ceremony ahead of tonight's WrestleMania extravaganza, legendary 61-year-old performer Bret Hart — who is a cancer and stroke survivor — was attacked by a fan in the ring as he was delivering a speech in acceptance of his induction to the 2019 Hall fo Fame class. Hart was flanked by current WWE performer Natalya, who is the daughter or Hart's late tag-team partner Jim 'The Anvil' Neidhart, with the 36-year-old also being caught up in the melee.
It is a generally accepted rule that it is a bad idea to rush the ring at any WWE event but particularly in this case when the ring is surrounded by some of wrestling's top stars, not to mention a couple of UFC fighters. And to so while one of sport's entertainment's most beloved personalities is celebrating a remarkable career? Yeah, not the best plan.
As you can see from the various footage below, the fan was immediately separated from Hart while an array of security, WWE performers and others quelled the issue. And yes, that is indeed former UFC heavyweight — and husband of Ronda Rousey — Travis Browne landing a series of strikes on the ground against the fan, who were sure is waking up this morning very much regretting his actions.
Thankfully, Hart took to social media after the incident to confirm that he wasn't hurt and that he wouldn't allow a 'technical difficulty' to overshadow what was a very proud night for him.
#BretHart and #Natalya attacked by a man during #WWEHOF #WWE #Wrestlemania35 pic.twitter.com/CzAOYDDEiM

— 🚥 (@theitanis) April 7, 2019
Disgusting. #WWEHOF

Should've let Travis Browne go at him for a few seconds. pic.twitter.com/MCb0gLUGcR

— 𝕽𝖆𝖓𝖉𝖞 (@NXTFanNation) April 7, 2019
Someone just went on stage and tackled Bret Hart during his #WWEHOF speech 😱🙏🏻 pic.twitter.com/34sGGfAd4E

— Louis Pulice (@louie3020) April 7, 2019
Bret Hart's attacker get mad his face smashed in by what looks like Dash Wilder. #WWEHoF #WWE #BretHart #Attack #WrestleMania credit to my boy Martin Endersby via FB pic.twitter.com/dO6Ckhk5Jt

— dRAIL2k3 (@dRAIL2k3) April 7, 2019
Bret Hart via his IG story: "Not even a little technical difficulty will stop me from accepting this award tonight. Thank you." #WWEHOF pic.twitter.com/L2SYVavosX

— Chamatkar Sandhu (@SandhuMMA) April 7, 2019
–
Comments
comments