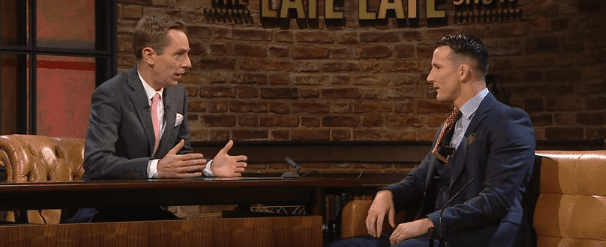 While fans and pundits get to see what takes place inside the ring, it's the hours and hours behind closed doors that remain unnoticed. It's that time spent away from the glitz and glamour of fight night that makes it all possible, and when the result doesn't go your way, it can be a hard pill to swallow.
For Conor McGregor and his team, the camp for their boxing match with Floyd Mayweather was one of the best they've ever been involved in. Discipline and structure dominated, with no stone being left unturned.
In the end, Mayweather emerged victorious, his composure and experience winning him the contest fairly. While McGregor, his teammates and his coaches could leave the T-Mobile arena with their heads held high, defeat can still leave a bitter taste.
For Coach Owen Roddy, who appeared on Ireland's most popular late night television show 'The Late Late Show', there were a whirlwind of emotions that hit him once the dressing room door shut.
"I was heartbroken," Roddy said. "I don't only work with Conor, Conor's a good friend of mine. We're training partners and sparring partners for many years, and then I took up the coaching role. When you see what somebody puts in — the amount of hours he puts in, the amount of sacrifices he makes and the team makes — when you see all of that, and you're all working together for one moment, for that night, and it doesn't go your way sometimes — it's heartbreaking.
"I was very upset over the fight, because I know how bad he wants it, and I know how bad the team wanted it."
There were of course, positives to be taken. McGregor went ten rounds with one of the best boxers to have ever lived, taking the first four for himself. He was immediately evaluating his shortcomings as soon as the bell rung, opening himself up to critique and already working on improving himself.
And, as you may have heard, there was quite a pay-day attached.
"He made a load of money," Roddy said. "I don't know [how much he made] but I seen the pay-per-view figures were 6.5 million views which is two and a half million more than the biggest PPV which was Manny Pacquieo and Floyd Mayweather. [Conor's] talking a hundred million, I'm sure he's making close to that or maybe more."
Regardless of money, Team McGregor will no doubt return determined. With McGregor having already commented on the variety of options awaiting him either in boxing or his old stomping grounds of mixed martial arts, there are plenty of avenues awaiting for he and his coaches to test themselves once again.
As the mantra goes: "we win, or we learn."
Comments
comments