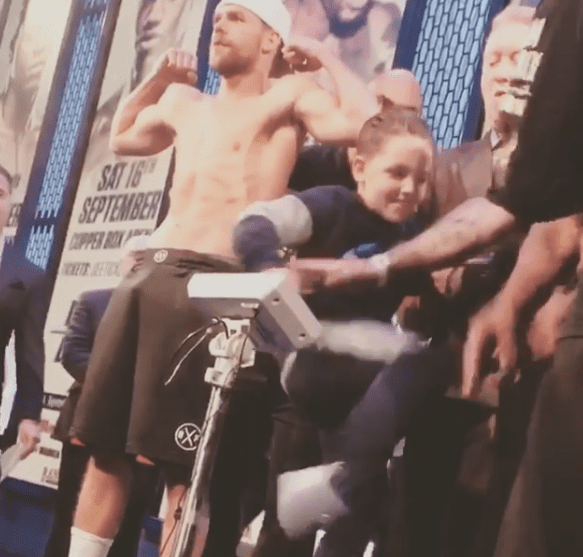 Sometimes kids can be a handful. Shouting at a restaurant, running at a pool, or punching your next opponent in his groin at a weigh in.
Today in London, WBO middleweight champion Billy Joe Saunders had his son Stevie join him on stage as Saunders and his opponent Willie Monroe Jr. underwent their weigh-ins before their contest tomorrow night.
Stevie jumped up onto the scales himself, earning a few chuckles from those in attendance, and even got a pat on the head by Monroe Jr. as a hello — only to respond with a punch and a kick to in between Monroe Jr.'s legs.
While some found the incident comical (the UFC's Chris Weidman for one), Monroe himself was left upset by the incident, posting on his Instagram and declaring that the promoter of the event Frank Warren should be embarrassed
"I honestly thought people in London were cool," Monroe posted. "But I've called a N**ger ..a wanker …a Latin F**k etc and now at the weigh ins They bring a kid on stage to punch me in the Nuts and nothing was done about it Frank Warren should be ashamed of himself."
Comments
comments