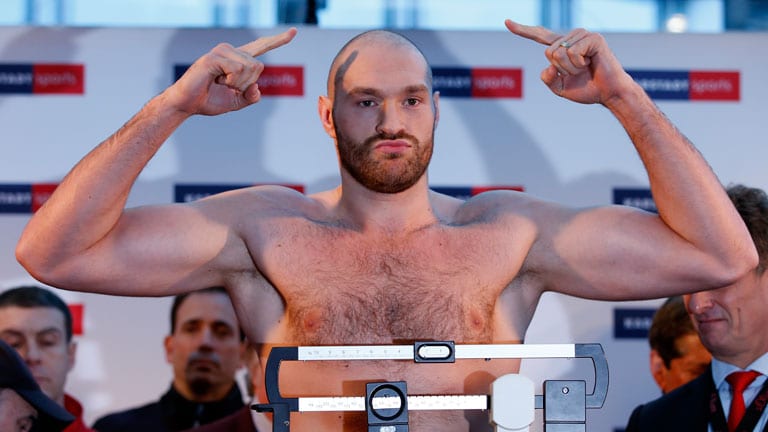 When Tony Bellew defeated David Haye for the second time earlier this month, it seemed to put the Scouser on a new level of notoriety and popularity. In the immediate aftermath, Bellew capitalised on that attention, calling for bouts against high profile names like Andre Ward and Tyson Fury.
Apparently, Fury heard the call out, and wants to put an end to any speculation. He won't be fighting Bellew, he says, because he'd simply deal out some irreparable harm.
"I don't want to fight Tony Bellew," Fury said, speaking to FightHype.com. "Reason being he's a family man and he's got a wife and kids. And I want him to stay healthy, stay boxing and earn a few quid and go home easy to his family. But if he steps in the ring with the Gypsy King, and I unleash hells fire on him, he's only a small man and I could damage him — hurt him, properly.
"You aren't messing with a David Haye who's 20 years out of date. You're messing with someone who is 6ft 9in, 19 stone, in the prime of my life, who can knock a wall down, one of the hardest punchers in heavyweight boxing but they don't know it.
"I don't want to fight Tony Bellew. Tony Bellew's a light heavyweight slash cruiserweight at best. If I go in there and hurt him then what good is that, how does that make me feel? He shouldn't be in the ring anyway. Listen we all need money but he doesn't need money that badly to go and lose his senses and get smashed to pieces.
"And all this thing that he could knock me out or whatever please – I'd let Tony Bellew hit me right [on my chin] and he wouldn't hurt me.
"So Tony, poor old Tony — it'd be like a feather duster, dusting me up and down. But that is on a serious note, I don't want to fight Tony because look, end of the day Tony should fight Andre Ward or someone on that level who's a light puncher – who's smaller, earn a few quid and pack it in. He's done very well, I'm proud of him but he doesn't want no part of this, trust me on that and I wouldn't want to get in there because if I hurt him like I say I'll be feeling bad all my life, the man's got a kids and wife.
"It's a sport at the end of the day, it's like putting a Pit Bull down to a Jack Russell, it's not fair is it? and that's what it'll be. It wouldn't be fair, because all I'll have to do is walk through him with me hands up let him hit my arms for three or four rounds, he'd fall over from exhaustion."
Comments
comments