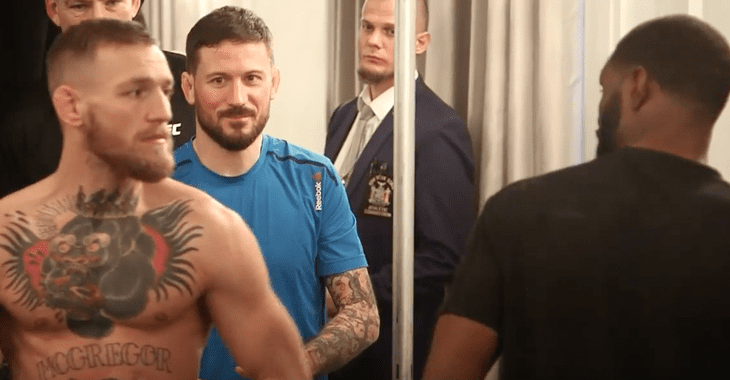 As the announcement of Conor McGregor's boxing match with Floyd Mayweather begins to settle, and fans and pundits look ahead, it's starting to feel as if McGregor is gaining the support of his MMA peers.
Just a day after lightweight contender Tony Ferguson came out to share his appreciation for McGregor's move, the UFC welterweight champion Tyron Woodley has echoed those sentiments.
Speaking on his podcast 'morning wood', Woodley addressed the McGregor – Mayweather match-up, and put any harsh words he had for the Irishman in the past.
"You've got to give him credit, man," Woodley said. "I'm gonna be straight-up, I'm not gonna sugar coat it, Conor McGregor is a boss. I'ma be dead ass [serious].
"He is a boss for what he's done, the ability to go and shake the industry that fast. Now he's made himself so popular that Floyd Mayweather came out of retirement to fight this dude? Come on, man.
"And it didn't start last week. There's no way he could achieve what he's done, or put himself in these killer win-win situations all the time, all these things are coming to this kid because, mentally, he's just willed himself into a position of success.
"Four years later from his debut in the UFC, this kid has every person that watches anybody punching somebody in the face… They're talking about Conor. You can't mention boxing without Conor, can't mention MMA without Conor, that's what's going on right now."
While some of the promoters involved have played down the MMA vs. boxing aspect of things, it appears several fighters who enter a cage instead of a ring are getting behind their guy.
Comments
comments