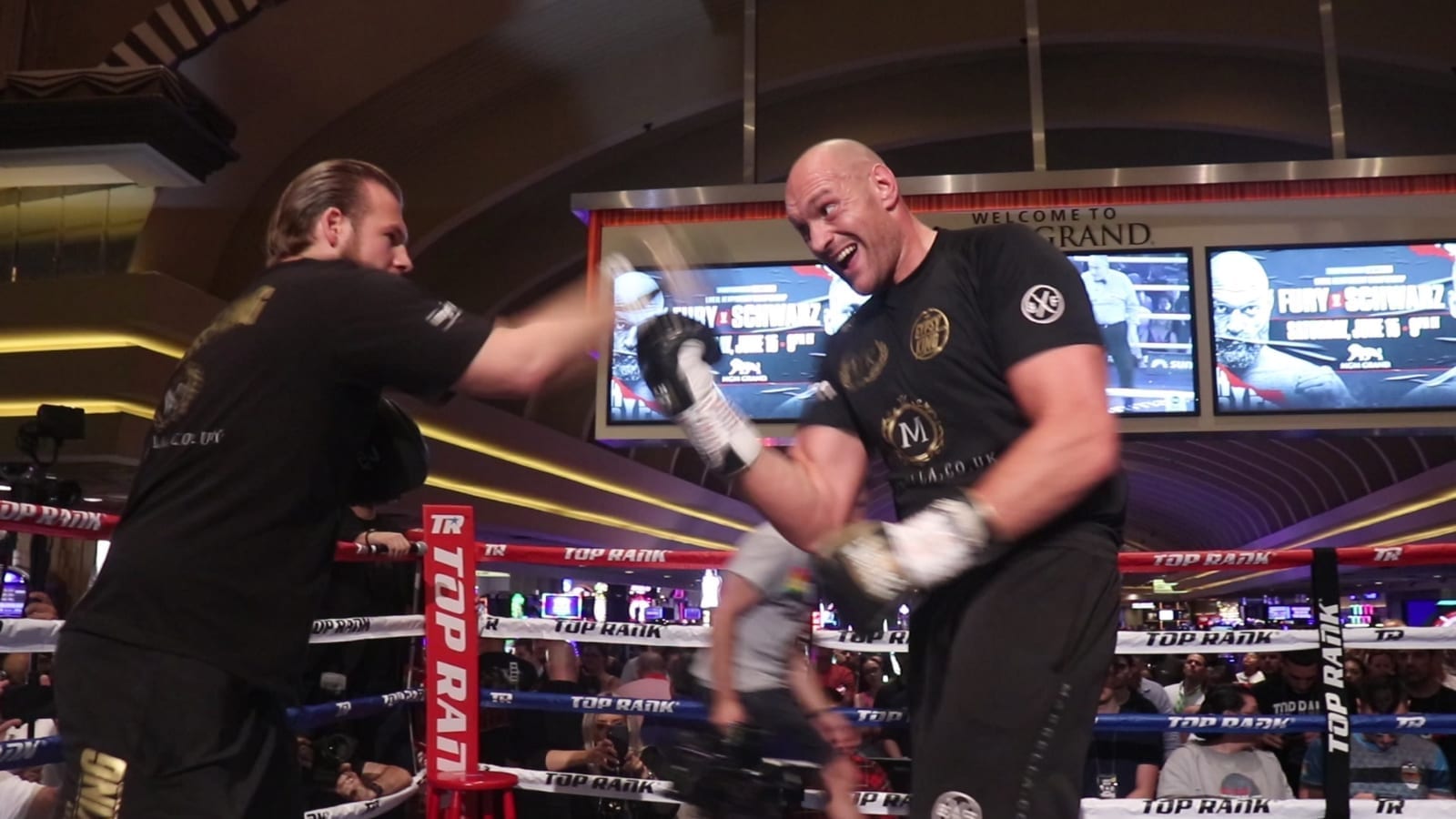 Tonight, Tyson Fury showed that the further he gets away from his layoff, the better he gets in the ring.
The lineal heavyweight champion showed up in Las Vegas with the full intent of putting on a show, and put on a show he did, stopping Schwarz in the second round of their Saturday night main event.
Plenty of MMA fighters were watching the entertaining Gypsy King, and plenty had comments to make after his win.
Here we go!! #FurySchwarz

— James Vick (@JamesVickMMA) June 16, 2019
Give me wilder vs fury please

— Belal Muhammad (@bullyb170) June 16, 2019
.@Tyson_Fury floating like a butterfly and stinging like a bee. Just beautiful

— Max Holloway (@BlessedMMA) June 16, 2019
Tyson fury is the man 😂😂😂

— Belal Muhammad (@bullyb170) June 16, 2019
My gosh @Tyson_Fury with them singing notes 🙌🏻🙌🏻🙌🏻

— Max Holloway (@BlessedMMA) June 16, 2019
😂😂😂 I love Fury

— Chas Skelly (@ChasSkelly) June 16, 2019
Tyson Fury killed it! Very entertaining! 😂😂 #FurySchwarz

— James Vick (@JamesVickMMA) June 16, 2019
I'm officially a super fan of @Tyson_Fury now! I was sold at the DW fight. But then you come out like Creed, box like Ali and sing Aerosmith! Must see TV #tysonfury

— Alan Jouban (@AlanJouban) June 16, 2019
#TysonFury is fearless!! 😂🙌🏼🙌🏼🙌🏼 https://t.co/2vqnkftAKH

— Alan Jouban (@AlanJouban) June 16, 2019
What a performance by @Tyson_Fury #FuryvsSchwarz

— KAMARU USMAN (@USMAN84kg) June 16, 2019
Entertaining performance by the Gypsy King – @Tyson_Fury 🥊

— Brandon Gibson (@SixGunGibson) June 16, 2019
–
Comments
comments