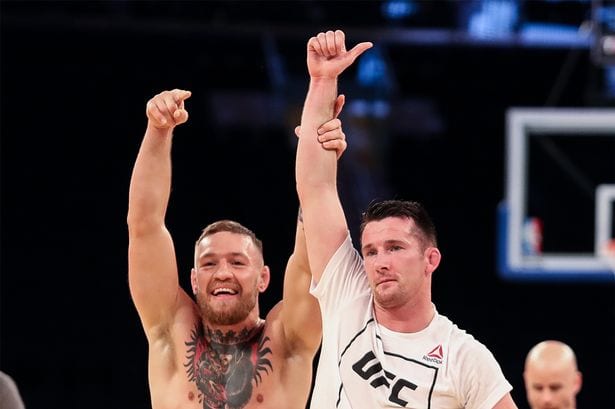 Conor McGregor vs. Floyd Mayweather might be in the books, but the analysis and discussion continues. With it being as big a fight as it was, it's not surprising the hot takes are continuing on even after fight night.
For coach Owen Roddy, McGregor's striking partner, that analysis will likely continue for the rest of his career. While McGregor came away looking well against one of the best boxers ever, Roddy feels an understandable pang of loss about the whole thing. However, as the old SBG adage goes; we win or we lose.
"I'm at peace with the result, but I'm not happy with the result. I won't ever be happy with the result cos we didn't do what we wanted to do," Roddy said, speaking on The MMA Hour. "Like any loss your first few days are very hard to take. You go over and over the fight in your head, and you figure out where you went wrong and figure out where you could have done better, and hopefully you don't make the same mistakes twice. That's the process that I'm going through.
"Obviously [I'm] always very proud of Conor. The big thing for me is I see what Conor puts in and the effort he puts it. Once you put it all in, you leave it all in the ring or in the octagon, you can't ask for more than that. But it didn't go our way."
Despite the disappointment, there are definitely positives to take away. While McGregor began to fade in the end, the beginning stages were all his, with him arguably winning the first four rounds against Mayweather.
It was only when the experience of Mayweather, whom was having his fiftieth professional contest, began to play a factor that the tide started to turn.
"I felt the game plan that we had and the strategy we came up with was working well for the first four rounds and Conor was doing really good," Roddy said. "It was a tight fight, but Conor was landing shots that we worked, and he was landing them often enough, in my opinion. [Then] Mayweather switched it up and became.. he kind of walked Conor down, kept the hands high, elbows in, and he walked Conor down, he made Conor throw the shots on the arms.
"We hadn't prepared for that. We tried to switch it up around 6 and 7 [in training] … but I should have been aware from a game plan like that from Mayweather and that should have been done in camp. It's hard to change things when you're in mid-fight. I'm a bit disappointed in myself that I didn't predict that he would walk forward, make Conor throw the shots and take them on the arms.
"I honestly thought he was going to pop shots, sit back, work the shoulder roll, work the Phili-Shell — and he did play that game for the first couple of rounds, Conor was having success — and then [Floyd] changed it up. Unfortunately I didn't have the stuff in place for the walking him down strategy. We'll learn from that."
To onlookers, it appeared as if McGregor simply wasn't in the condition to go the full twelve rounds of boxing. In actuality, McGregor's cardiovascular preparation was solid for the contest, it's just a question of tactics, and misplaced rounds in the gym.
"People are saying his cardio this  and his cardio that," Roddy said. "Anyone try and go in and fight a five round war with Nate Diaz, or twelve rounds with Floyd Mayweather — when it's that intense, and you're being pushed back, it doesn't matter how fit you are. Floyd from [rounds] 9 and 10, he managed to get Conor on the back foot for those two rounds. I know from experience myself, when someone's constantly pressuring you like that and you don't have a second to get a breath, fatigue sets in and it doesn't matter how fit you are."
Regardless of the outcome, the fight has earned its plaudits from almost every angle. For fans to have McGregor making the leap into a sport against the best on offer, and then to meet a more aggressive Mayweather than usual, the spectacle met the hype head on. And according to Roddy, no loss could wipe away that experience.
"I definitely believe that everybody that was there that night experienced an unbelievable bout between two unbelievable fighters," Roddy said. "It was very exciting, as I said the first four or five rounds I felt we won and then [Floyd] changed his strategy came back, switched it up, started taking the latter rounds. The crowd was on Conor's side, the crowd was on Floyd's side — it was an unbelievable fight.
"The experience, walking out, just the magnitude of what we were involved in, I will cherish forever.
Comments
comments