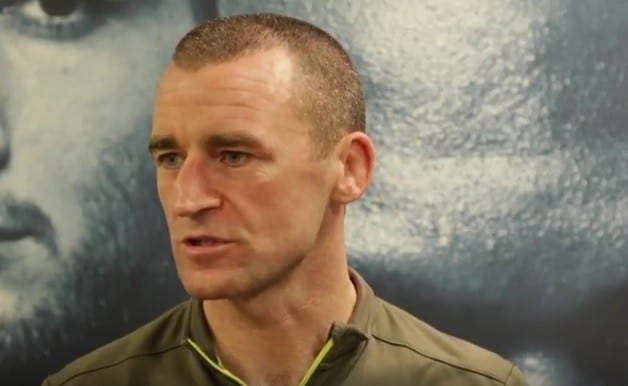 Last weekend, Neil Seery fought the 29th and final mixed martial arts contest of a career which saw the Dubliner rise through the ranks from regional Irish shows to a Cage Warriors title and ultimately all the way to the bright lights of the UFC.
Back when Seery began his professional career in 2005 the sport was still uttered in hushed tones throughout Ireland. There was no Conor McGregor yet to legitimise MMA in the eyes of the public (a battle which is still ongoing, incidentally) and the only brief window into mixed martial arts was the handful of fight gyms scattered across Ireland's capital and a few hours' programming each week on English cable channel Bravo. For the first wave of Ireland's mixed martial artists, this was all that was needed.
Neil Seery was very much a part of this first wave. He began his fight career in a much more 'wild west' landscape for mixed martial arts in Ireland, where weight classes were considered little more than a guideline. Opponent research meant learning his name and if he was a striker or a grappler and little else. CTE and the myriad other dangers now associated with combat sports weren't a consideration.
Now that Seery is officially an ex-pro in the fighting ranks, he has opened up to Newstalk's 'Off The Ball' show about the toll fighting can take on your physical and mental health. CTE (chronic traumatic encephalopathy), the degenerative brain disease which has affected athletes from boxing to MMA to rugby and more, has become a well-known health risk to athletes everywhere and as Seery says, he didn't understand the magnitude of the risk until he had signed with the UFC.
"I genuinely didn't know what I was doing to my body [and] my mind until I moved to the UFC," Seery said on Wednesday. "All the scans, all the people you have to talk to. The CTE is a massive thing. Am I worried about it? Yeah because I've taken a lot of hits. I am worried about it."
The issue of brain trauma in mixed martial arts and several other sports has justifiably become a central topic in recent years. Jordan Parsons, a 25-year-old fighter who died as a result of injuries in a hit and run last year, was found to have telltale signs of CTE after his autopsy. Parsons had competed in just 13 fights, suffering a knockout in just one of them and it is these types of stories which Seery says needs to be communicated to this generation of young athletes.
"In 2015 I was in Vegas and I was after fighting Louis Smolka. I went back from Vegas and I had a massive panic attack. Massive. It took over nearly a year and a half of my life. It just damaged me so much that it was just unbelievable. It took over all of my career. It was the fact that there was so much information out there about the CTE. It frightened me so much that I took everything in [and] that's the wrong way to go about it. Instead of taking the doctor's advice and learning about it, we went pure and utter negative on it and said, 'right I'm gone, I'm in trouble here.'
So wary of the health risks was Seery that he changed up his entire training routine, diet and everything else that comes with it. Sparring, for so long his favourite part of a training week, was cut down as he didn't want to take unnecessary shots to the head anymore. Thankfully, a battery of medical tests confirmed that Seery is healthy and doesn't even have so much as concussion but he says he still struggled with the concerns of his future health, particularly as a family man, as well as the mental dump that comes in the immediate aftermath of a fight.
"You build yourself up to go into the Octagon," he reflects. "The adrenaline is just inhuman. You're switched off away from everything, you're just focused on who's across from you. And then next of all come Monday morning, nothing. There's nothing there.
"A lot of people were saying, 'how are you retiring when you're still competing with [fighters in their twenties]?' That was the reason that I was retiring because I've got this fear now that this is all going to come back to me."
Seery says that the recent success of Conor McGregor has seen an influx of youngsters focus their dreams on achieving similar success to that of the UFC lightweight champion but they must understand that attaining that level of success is simply impossible.
"I'd like to advise young fighters that think everybody's the next Conor McGregor. Anybody that strolls through the gym, any gym, thinks that they're the next Conor McGregor and I'm saying to them there's only one Conor McGregor. You'll never see another athlete in your lifetime that fights the way he fights. You're never going to see it. You can forget about being the next Conor McGregor. They're throwing all their chips into one basket and leaving their jobs. I've done it all. I've done the whole lot and still come next week I'm going back to work.
"I want the media to go to these [retired] fighters and ask them how are they mentally, how are they financially, how is family life for them? That's what I want to try and put out there."
Comments
comments