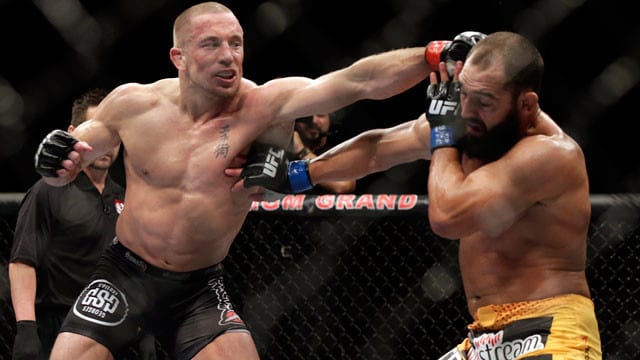 In November, Georges St-Pierre returned to action after a self-imposed near four-year hiatus from mixed martial arts to defeat Michael Bisping to claim the UFC's middleweight title. The championship win, in his 185-pound debut no less, seemed to indicate that the Canadian legend was back int he sport to stay. Robert Whittaker, the then interim middleweight champion, was on hand in New York to witness the bout and by all indications, he had set up a lucrative title bout against St-Pierre.
And then, just a matter of weeks later, St-Pierre relinquished the title after revealing that he was suffering from a stomach ailment called colitis which would indefinitely keep him from competing. St-Pierre turns 37 later this year and, with his legacy already secured, many have begun wondering aloud if he will ever return to action.
However, according to St-Pierre's coach Firas Zahabi, we have not seen the last of Georges St-Pierre.
Speaking with FightHub TV (via MMAFighting), Zahabi said that he expects to see GSP in the cage once again — but it may not be for a while yet.
"I honestly don't bother him about [when he will fight again] because I know everybody is always asking him about it, 24 hours a day," Zahabi said. "When I see him, I don't talk about the next fight. We don't talk about it. We know each other. I know what he's thinking, he's knows what I'm thinking and we leave it at that.
"I think, personally, that he's going to fight again. He doesn't know. Nobody knows but I think that he's just so hyper-competitive that eventually he's gonna wake up one day and be like, 'I need a challenge.' I just think that's the person he is. That's how I see him but we'll have to wait and see.
"I have no idea [how long he'll be out]," said Zahabi. "I think he's out for at least a year or two. I don't know. We all love Georges but he's put in so many years, he's put in so many bouts, I don't think it's fair to ask him for more."
Comments
comments