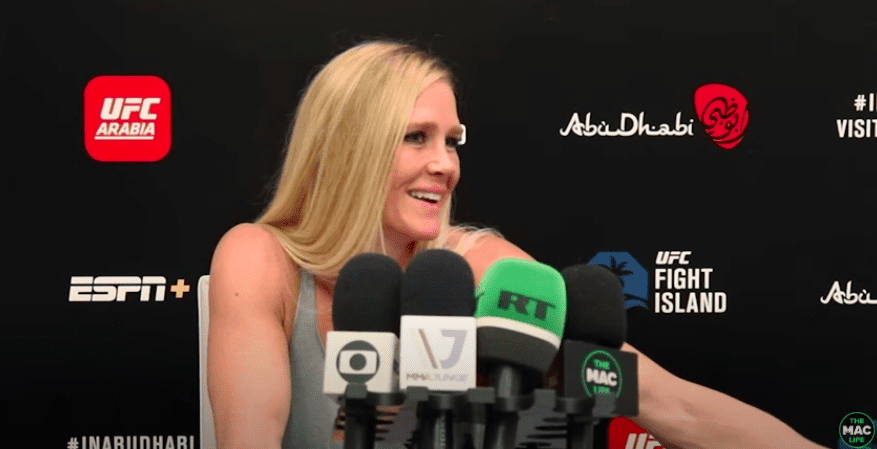 Holly Holm knows the feeling of holding a world title — but more importantly she knows what it takes to get there.
Holm was the author of one of the most seismic shocks in mixed martial arts history when she landed a left high kick to a retreating Ronda Rousey in Australia nearly five years ago, exhibiting the first chink in the armour of Rousey, a fight who had previously been considered next to unbeatable.
However, Holm's time at the top of the mountain was brief. She lost the title belt the following March after losing by late submission to Miesha Tate. Since then, results have been mixed but as she told the media in Abu Dhabi, including The Mac Life, her fight with Irene Aldana this week isn't just another paycheck — it is an opportunity to move closer to the world title opportunities she craves.
"My goal is to have the title," Holm said. "I want to retire with the title. I'm truly a big believer in the fact that, if you're not trying to fight for a title, what are you fighting for? If you're not trying to be No. 1, what are you fighting for? That's the difference between somebody who just wants a participation ribbon and a gold medal. I'm always going for gold."
"I have watched a little [of Irene Aldana]," Holm said of her main event fight this Saturday. "I don't watch a tonne, I just focus on whoever I have in front of me, but sometimes there will be a fight where it's like, 'I may face this woman eventually.' Irene is definitely been one of those fighters like, 'You know what, her and I are definitely going to see each other in the octagon soon.' So, I've been watching."
And Holm says she knows that, with her 39th birthday fast approaching, there is little room for error if she is to once again realise her title ambitions.
"My biggest thing is: The only way to get (to the title) is to make the best statement with this fight," she said. "I can't be thinking past my opponent right now, so that's what I want to do is just make the most of this fight then go from there."
Comments
comments