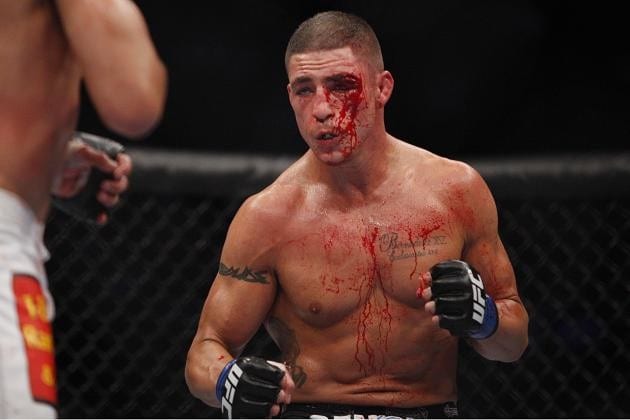 Sometimes fights are made which, on paper at least, seem to have an almost nil chance of being a boring contest. This weekend's fight between UFC veteran Diego Sanchez and Michel Pereira is one of those.
Sanchez needs little introduction. One of the longest tenured fighters on the UFC roster, Sanchez was the first-ever winner of The Ultimate Fighter and has garnered a reputation as a never-say-die combatant who is rarely in a lacklustre fight. His opponent this weekend, Pereiria, became a viral sensation due to a series of clips of his extraordinary exploits in the cage — one of which was an impromptu 'moonsault' he landed while springboarding off the cage.
And, as Sanchez says, it has all the ingredients for an exciting fight, but also one that he is confident in winning.
"My expectation for the fight is that I'll get a very clear victory," Sanchez said to Combate. "I worked too hard, spent too much energy and time, really sacrificed myself in order to get where I am right now. I don't think this fight will go to the judges. This fight will end violently.
View this post on Instagram

Be so polarizing you are the strongest vibration in the building! Do not try! Just be! #powerred
"When you come to New Mexico, with the altitude, with the desert's dryness, your throat gets dry, you feel like you're going through the valley of death when you're cutting weight. So, when we enter the Octagon on Saturday night, I'll make him feel real pain."
"I know his style. This guys is still learning. I feel like he has a big ego at 25, just like me when I was 25. He wants to be a showman, to win over the fans, be the entertaining guy in the company, he wants people to watch him jump and flip around. He wants to have views on YouTube and likes on Instagram. That just extra work for him, something else he has to do. I know what that means. He's big, tall and strong, but for how long? For how long can he jump, fip and roll around. You need to know how to manage your energy in this sport."
Comments
comments