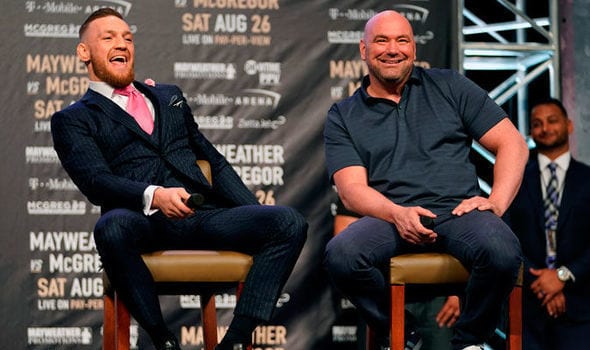 Conor McGregor has a history of rebounding from injury in impressive fashion.
Back in 2014, the Irishman headlined a UFC event in his native Dublin just 11 months out from sustaining a serious knee injury in a comprehensive, three-round win against future champion Max Holloway. That was 11 months fight-t0-fight, when an 11 month recovery period total would have been impressive enough.
Flash forward to today, and McGregor is five months removed from the leg break he suffered during his most recent fight in July and stated in a recent Twitter Q&A that he is hoping to return to sparring in April — after which he says he will compete as soon as in humanly possible in what he described will be "one of the greatest sports comebacks of all time".
View this post on Instagram
And Dana White, speaking to Jim Rome on his podcast, indicated exactly how much McGregor is focused on his return to the cage.
"Yeah he's chomping at the bit to get back in there and compete again. But it's gonna be a while before he can put some torque on that leg," he said. "For him to start training again in April is probably about right.
"I don't know, he obviously still has the desire to compete. You don't ever hear Conor going 'you know what, I just don't have the desire for this anymore."
"Yes, obviously he is very rich and he's training like Rocky in Rocky III, but he still has the desire to compete and the desire to fight."
In the aforementioned Twitter Q&A a few days back, McGregor also gave another indication as to how his leg lower leg is healing following surgery which saw a steel rod implanted.
"The fibula is fully healed. The medial side of the tibia is developing nice callous also. It is just patience now for it to form down through the bone to the lateral side of the tibia where the larger break occurred," he said.
"It's getting there. Patience will win this race for me."
Comments
comments