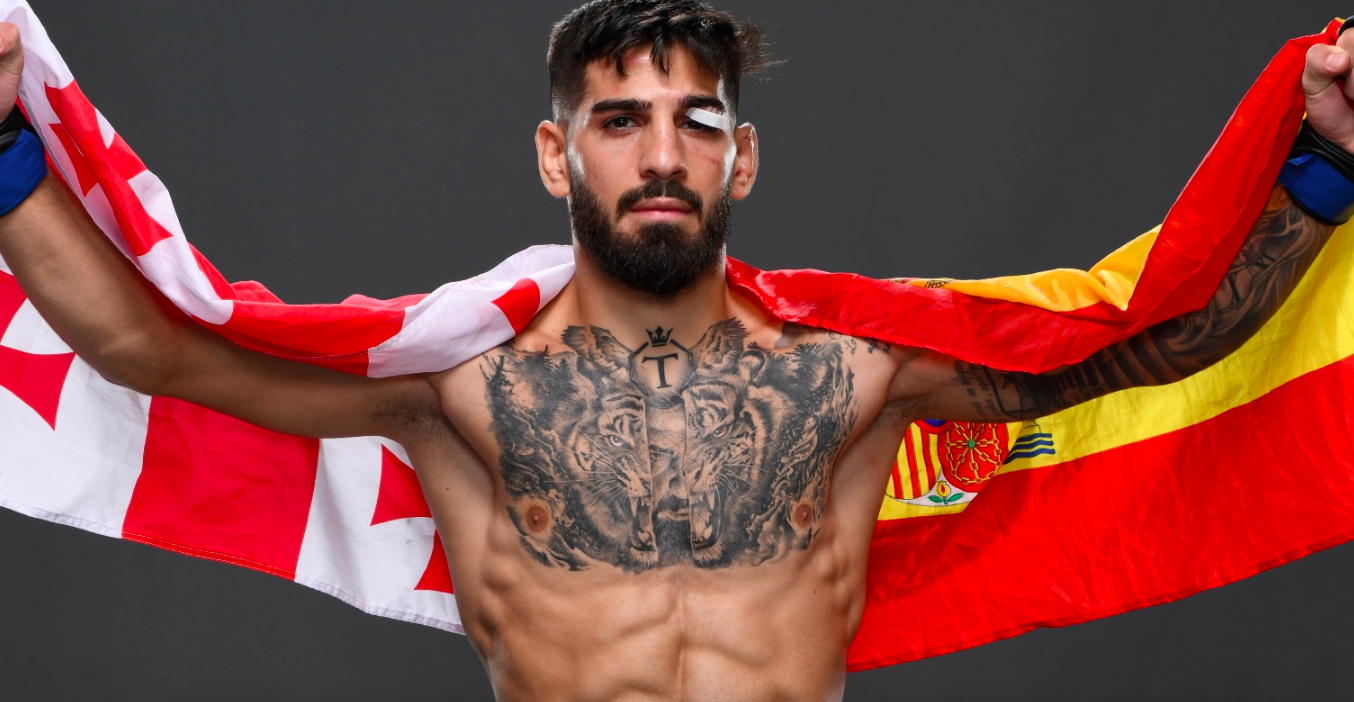 Ilia Topuria is confident that he has Alexander Volkanovksi's number, wherever their inevitable battle happens to take place.
The Georgian-Spanish featherweight enhanced his already glowing reputation with a comprehensive mauling of the ever-tough Josh Emmett in the headline fight in the UFC's return to Jacksonville, Florida late on Saturday night, with one judge scoring the fight a lopsided 50-42 in favour of the 26-year-old contender.
Topuria, who is now a perfect 14-0 in his career (and 6-0 in the UFC) is considered by most to be the next big thing at 145-pounds, and an inevitable future opponent for the division's champion Alexander Volkanovski, provided that the Aussie gets past a summer date with Mexico's Yair Rodriguez.
And when that fight happens, Topuria says that he is so confident in his skills that he will happily go to Volkanovski's back yard to steal the title away from him.
"No f*cking problem," Topuria told Ariel Helwani on a recent edition of The MMA Hour when asked if he was willing to head Down Under to tangle with the champion. "If I think I'm the best in the world, I can beat him in Australia, in Las Vegas, in Miami, in Spain, wherever we go, I beat him. Location is no problem."
The landscape of the UFC's title picture across two different divisions might pose a problem, however. The first obstacle, obviously, is Yair Rodriguez — but if Volkanovski successfully defends his crown this summer, speculation suggests he may seek a lightweight title rematch with Islam Makhachev, who scored a razor-thin decision win against the Australian earlier this year.
And if that's the case, bring on Max Holloway.
"Right now, I'm really focused on getting that championship belt," Topuria explained.. "I want to get that title fight, which I know that I deserve. But if they come out with some offer to go to Spain and make a fight in Spain with Max Holloway maybe, because if they told me to go to Spain to fight someone unknown, I'm not going to ask for that fight because I want to go for that belt.
"But if they come out and they told me, 'We want to take the UFC to Spain and you're going to fight with Max Holloway,' I will say, 'Hell yes, let's go, let's do it.' I want to fight in front of my people."
However, Topuria suggests that being paired with Holloway only serves to delay his title bout with the champion.
"That's the most realistic situation for me," Topuria said. "There is nothing else for me. I showed to everyone, even before this with Bryce Mitchell. In this division no one can match my level of skill inside the cage. Nobody can, no one. No one.
"So what else is there for me in this division but to fight for the title? If someone can stop me and someone's thinking they're the champ, no one else can do it. It doesn't matter for me," he added. "I have the goal, which is to become the world champion and if I have to wait, I'll wait my whole life. Why am I not going to wait, like six more months or something like that? I'm going to wait."
Comments
comments