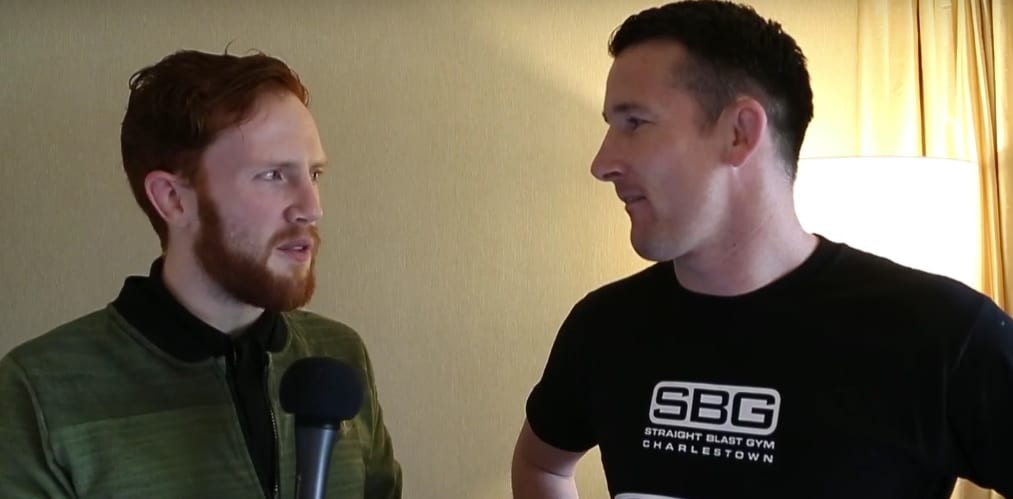 Throughout a career which has seen him fight in places as far afield as Jordan, Ukraine, Poland and now Nashville, one of the constants in Artem Lobov's journey has been training partner, teammate and now striking coach, Owen Roddy.
Roddy will corner Lobov on Saturday night in the main event of UFC Nashville in what is undoubtedly the biggest fight of his career against Cub Swanson. But as Roddy explains, all of the bouts throughout Lobov's near 30 fight career have been the precursor to tonight's main event.
"It's all been leading up to this one", Roddy said to TheMacLife.com. "This is Artem's shot, this is his time and I think, tonight, we're all going to see it. We'll see that big finish come."
In Swanson, the SBG Ireland man faces one of the most experienced contenders in the UFC's featherweight division. Ranked #4 , Swanson has an eye-catching array of strikes at his disposal (most of which were showcased in his gripping clash with Doo Ho Choi last year) and while many opponents would perhaps attempt to negate his biggest strength, Roddy says Lobov will invite it.
"We've all seen Artem and the way he fights. He's very hard to hit, his head movement is brilliant. We're trying to draw the shots out of Cub, trying to get Cub to throw at Artem because he will miss. It's very difficult to hit Artem. We're trying to get Cub to throw, make him miss and then once Artem lands that hammer it's going to be all over."
As soon as Lobov's first UFC main event is finished, Roddy returns to Dublin to begin work in earnest on another project — preparing Conor McGregor to face the unique challenge of Floyd Mayweather.
"Training now officially starts hard when I get back on Tuesday. I was talking to Conor over the weekend and we're getting going. I don't think it's officially signed yet but it will be soon enough. That's going to be an exciting one.
Roddy will be among those posed with the task of formulating a strategy to defeat Mayweather but he says McGregor already possesses the necessary tools.
"Conor comes with a different type of style. Obviously, it's Floyd Mayweather and that's going to be the challenge but at the end of the day Conor only needs to land once. I've said this in every interview. He only needs to land once and you can't go against those odds."
"If he lands, whoever they land on, they fall asleep. It's going to be tricky to land early on but Conor is very good when it comes to figuring people out. He has always been very good at that. You watch him spar and a new person will come in and within one or two exchanges, Conor can read the guy and he can tell what shots are coming. I think that is going to be the same scenario when it comes to Mayweather."
.
Comments
comments