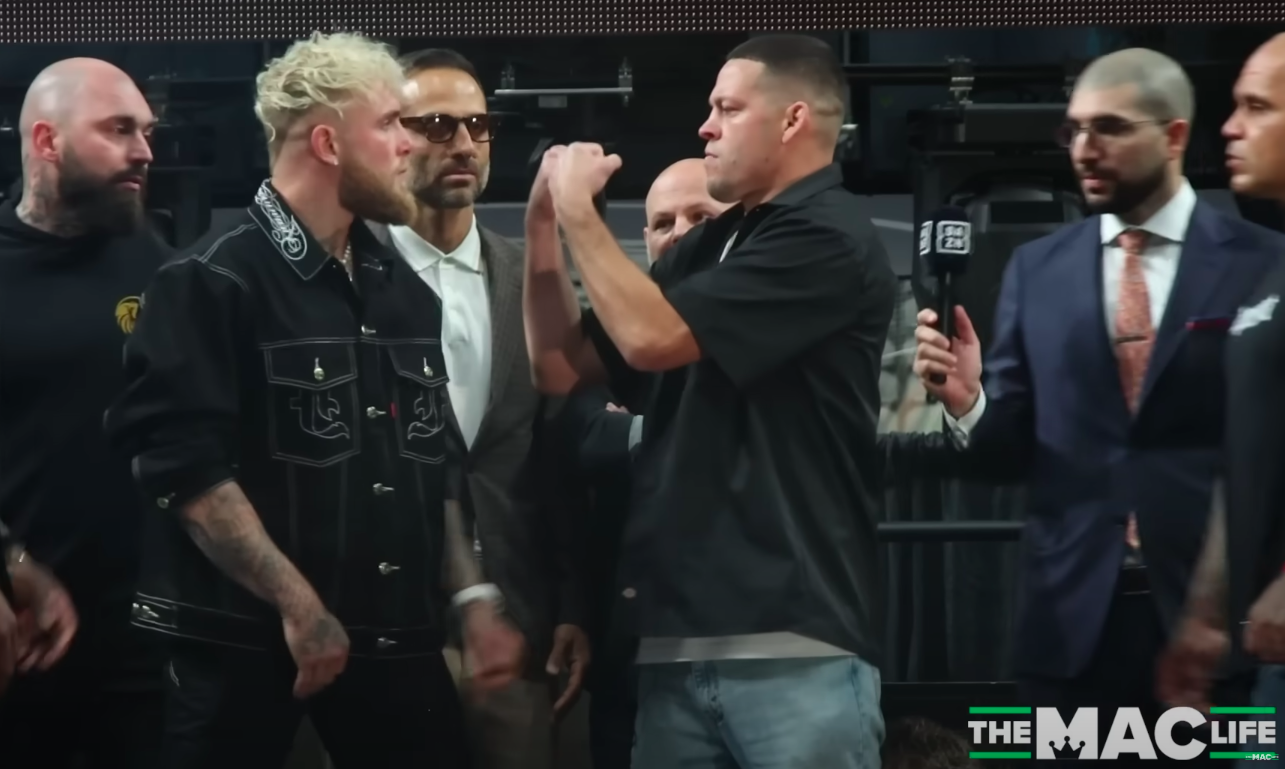 After an unscheduled, impromptu encounter with a Logan Paul lookalike in New Orleans which earned Nate Diaz a warrant for his arrest last month, the former UFC fighter came face-to-face with a bona fide member of the Paul clan in Dallas, Texas on Tuesday.
TheMacLife's cameras were on hand to capture the first staredown between the two boxers who are set to clash in August in what will be Diaz's professional debut in the sport. Paul, the YouTuber-turned-boxer, will be looking to overcome his first career defeat after he was outpointed in a split decision by Tommy Fury in February in Saudi Arabia.
Prior to that, Paul had defeated well-regarded mixed martial arts fighters in the boxing ring including Ben Askren, Tyron Woodley and Anderson Silva.
The first press conference between the two was a mostly professional affair, save for a moment where Paul appeared to fire one of his employees who addressed Diaz on the microphone by saying that the wanted to box Nick Diaz on the undercard of the August event.
Explaining his motivations to take on Paul, Diaz said: "My plan in fighting is to always fight the biggest names, and the best fighters there are. I've been trying to get out of the UFC for a long time, because I knew what I was worth, what fighters are worth and what I should do. It was a long road, but when I was on the way out, [Jake Paul] was doing the biggest and the best things outside in fighting and for fighting, and I was glad I had a worthy opponent to make an attack on as soon as I got out."
Diaz, who is 38, added that he believes he could have spent the majority of his career in professional boxing "but a cage fight came up first."
"I would have been a pro boxer when I was 18 years old but a cage fight came up first so I was stuck in a cage my whole career," he said. "There were times when I got locked in a contract right away from the UFC. So I was already locked down from the beginning.
"I wanted to get out and do boxing, but it was contract after contract and sh*t. It was a chain reaction the whole time. I was just locked in longer and longer. I've been going to boxing gyms since I'm 15 years old, sparring pro boxers, and I don't think I've ever got my ass whipped in a boxing gym and not come back and been the last guy to win the rounds. I've always wanted to box. Like I said, I feel like I was a pro boxer the whole time."
Comments
comments