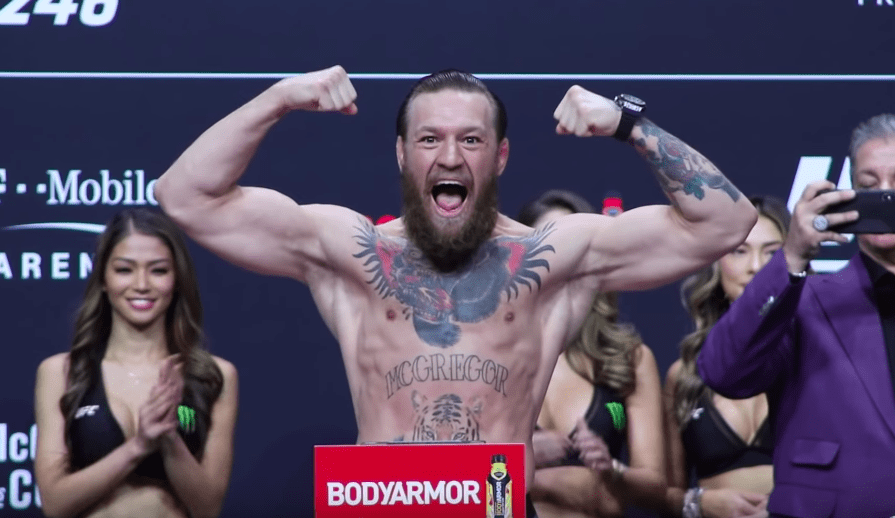 Hours removed from his UFC comeback, Conor McGregor was once again in relaxed form at Friday night's UFC 246 ceremonial weigh-ins in Las Vegas.
The Dubliner, who will compete in the cage on Saturday for the first time in around 15 months, weighed in earlier on Friday at a career high 170-pounds. He looked a little different to the two times he fought at welterweight in the past, two pounds heavier than the 168-pounds he registered in the second bout with Diaz in 2016, but also had the appearance of a more natural welterweight rather than 'just' a lightweight who skipped a weight cut.
"How good do I look at 170?" McGregor asked the crowd when interviewed by UFC personality Joe Rogan. "I'm coming for all of them in this division and it starts with Donald. Let's go, I'm excited.
"You are in for a great show. Tomorrow night, I'm dedicating this fight to my Ma back home. I love ya Ma."
For his part, Cerrone also seemed to be caught in the excitement of the situation.
"It's incredible, we are going to blow the roof off this place," he said "Everyone says I don't show up for the big fights, but I can't wait to show up for this one. It's going to be a great night."
For McGregor this, he says, will be the first date on a 'season' in 2020 in which he says he will compete at least three times. Jorge Masvidal and Kamaru Usman, two fighters linked to McGregor in the media, will both be in attendance on Saturday night and it seems that McGregor has got ahold of one thing he has always liked to keep close in his fight career: options.

Comments
comments