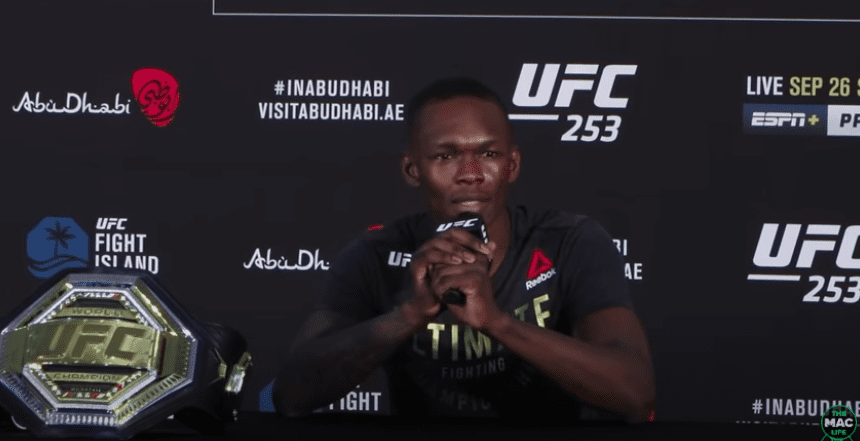 Israel Adesanya did exactly what he said he was going to do against the previously undefeated Paulo Costa at UFC 253.
The reigning UFC middleweight champion earned a second round TKO finish of the Brazilian in his second defence of the 185-pound title and, as he told the media post-fight in Abu Dhabi, fighting Adesanya is different to the "human punching bags" that 'The Last Stylebender' says Costa has been fighting up until this point.
"I'm 10 steps ahead," Adesanya said to the media, including The Mac Life, on 'Fight Island'. "I told you guys I'm 10 steps ahead. You think these are just words, but I'm 10 steps ahead. … I told you guys in the pre-fight I'm not a human punching bag. He's only fought human punching bags, guys who will just stand there and cover up. They just let him tee off on them. I knew, because he was cutting me off. Bro, we are the best, City Kickboxing.
"They just want me to stand there so I can get punched," Adesanya continued. "I'm not stupid, dummy. I told you, he's dumb. I'm smart. This is my 100th win in combat sports all around. One fight, two fights, three fights, four fights, five fights, six fights – all the way to a (expletive) hundred. I'm not a (expletive) baby for this game. I've been in this shit for a long time and I'm still fresh."
With Adesanya securing what was the 100th victory of his combined combat sports career, he began focusing on his 101st.
"I think Jared's [Cannonier] going to dust Robert Whittaker and I look forward to fighting him," he said. "I think he's going to get it done. I'm rooting for him. But if Robert Whittaker wins and he wants to get knocked out a third time, I can make that happen, too."
Comments
comments