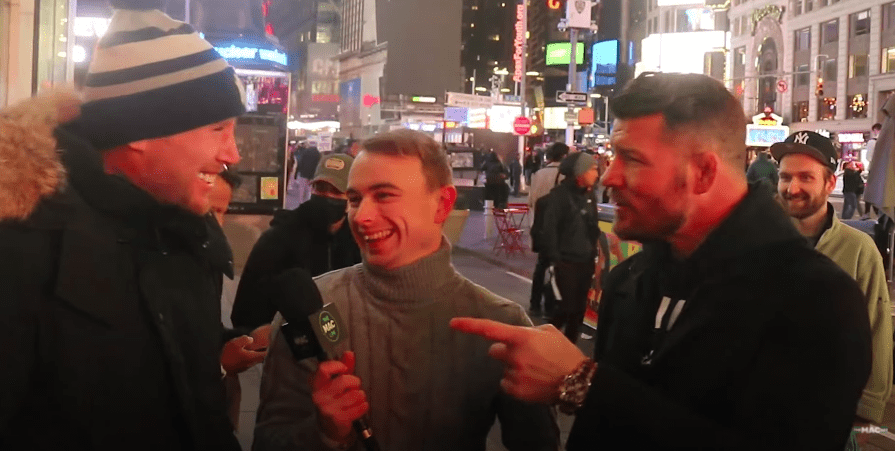 Michael Bisping's path to a UFC title was an arduous one but the UK mixed martial arts legend proved with a couple of swings of his left hand in Australia a few years ago that good things come to those who wait.
Darren Till, meanwhile, has appeared to be on a trajectory to gold for much of his career but has faced setbacks in recent fights which have delayed his title ambitions. But as Oscar Willis of The Mac Life found out when talking to both Bisping and Till in Times Square on Wednesday, perseverance is key in the fight game.
"I'm just learning, aren't I mate? All the steps," said Till. "What to do in fighting. [Bisping] is giving me little bits of advice. He's got years on me so he obviously knows how the world works at lot more than myself, so I'm not going to stand around and say, 'I know this, I know that.' You've got to take advice from a man like this.
"I don't give a f*ck for no fighter, this is genuine inspiration and we're now in business as well."
"Well thank you Darren," replied Bisping. "The thing is, and you touched on it there, is experience. It's not that I knew how to do it better or whatever. Life is a great teacher. I've got 14 years [on Darren] and it's 14 years experience. Of course, I retired a few years ago but it's just bit by bit. It's great if you can come into a sport and dominate and become the champion straight away. That's amazing, but that doesn't happen to everybody but if you don't give up and you're willing to make the right changes, and just chip away and make little incremental improvements as you go…. Just chip away, get better and better. Learn with every training camp. That's what I say to Darren all the time.
"I truly believe Darren will be the champion one day. It's like your mum always said when you were a kid: if at first you don't succeed, you try and try again. It's easy to give up. A lot of people give up when they hit a hurdle or a barricade but if you're a true man or a true fighter and you want it bad enough, you'll keep going back and you'll keep trying.
"Denial sometimes is what you need."
"I truly believe he will be the champ, it's just that you can't give up. He's 28, I was 38 [when I won the title]. That's ten years, that's an incredible amount of time."
Both men are in the Big Apple this weekend for the bumper UFC 268 fight card topped by a world title rematch between Kamaru Usman and Colby Covington — and former world champ Bisping says that he admired Covington as a fighter, but is of the opinion that Usman will be too much to handle inside Madison Square Garden.
"I think Kamaru wins in style, to be honest," he said. "Listen, I'm a fan of Colby Covington the fighter. All personal stuff, forget about that — the guy can fight. He's not here to mess around so he's a guy that needs to be taken serious. But he hasn't been active. Kamaru's fought three times since they last fought, he's got a different set of coaches, he's knocking people out, he's finished three out of his last four.
"The knock on Kamaru was always that he was a wrestler and went to decisions all the time. Now he's knocking and he's filling the boots as a champion. He feels like a champion, he's wearing that hat. He's the number one pound-for-pound number one guy on the planet.
"Colby, great fighter. No disrespect to him but I don't think he gets the job done on Saturday."
Comments
comments