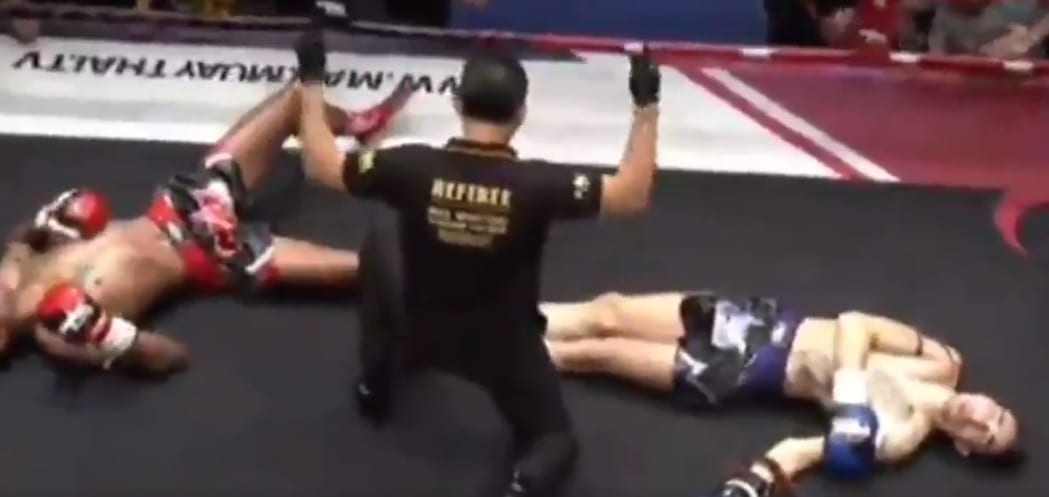 The sharp-minded among you may recall Dorian Price's spell in The Ultimate Fighter house. 
Price, the now 39-year-old Muay Thai expert, was selected seventh by coach Matt Hughes on the sixth season of the UFC's flagship reality show. His spell on the show wasn't a particularly successful one; he was beaten in the first round by Matt Arroya via rear naked choke and then went on to lose to Roman Mitichyan in just 23 seconds on the season finale — again by submission.
Price went on to retire from active mixed martial arts competition in 2012 but has continued to compete in the world of Muay Thai, a move perhaps best suited to his particular arsenal of skills (and the fact that his opponents aren't trying to strangle him).
Well, Price is in the headlines once more owing to a Muay Thai bout he took last Saturday at Max Muay Thai Stadium Pattaya, Thailand, in which he and his opponent landed flush blows on each other at the same time. Price was the less hurt of the two and managed to rise from the canvas before the 10-count, winning the match.
Check out the footage below.
It happened again – doubler! knock down & knock out
Dorian Price Ko's Jonathan Lecat – Max MT pic.twitter.com/9mRXvtmjqb

— Jolassanda (@Jolassanda) May 21, 2017
Now there's something you don't see every day.
The Double KO has made a few appearances over the years, such as this one from Shamrock FC earlier this year and, arguably the most famous, this one which caused special guest referee Shonie Carter to very much lose the run of himself.
Comments
comments