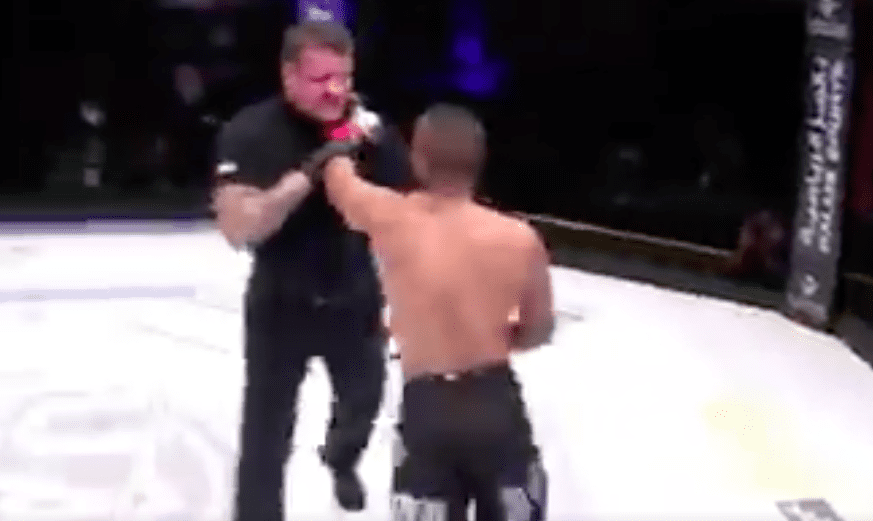 Days after the UFC finished their run of events on 'Fight Island', Abu Dhabi hosted another mixed martial arts event on Friday — but some elements of the UAE Warriors 12 event didn't quite go as seamlessly as it did during the UFC's residency. 
A match between Ahmad Al Darmaki and Bogdan Kirilenko ended when Al Darmaki sunk in a rear naked choke. His opponent, Kirilenko, tapped on the canvas, at which point referee Marc Goddard stepped in to intervene. However, Al Darkami held on to the choke for a few beats longer than necessary, and Goddard wasn't a happy man.
The official immediately remonstrated with the fighter, prompting Kirilenko to push Goddard twice and even grab the referee by the throat.
Unsurprisingly, the result of the fight was a DQ win for Kirilenko.
Check out the footage below:
Ahmad Al Darmaki was just DQ'd after he refused to release an RNC against Bogdan Kirilenko. Things got physical between him and ref Marc Goddard.#UAEWarriors12 pic.twitter.com/XF1azA1Jzs

— caposa (@Grabaka_Hitman) July 31, 2020
–
Comments
comments