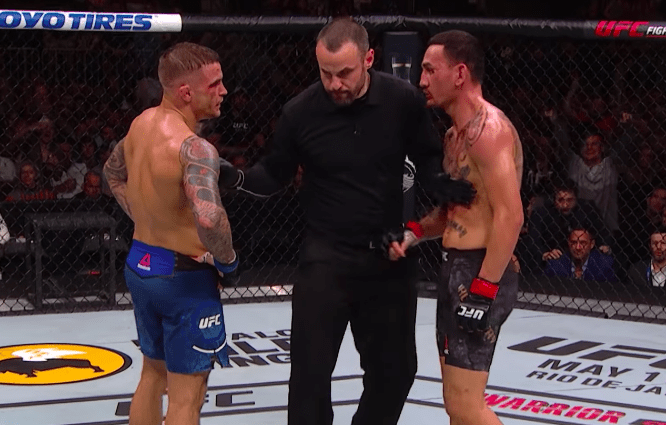 Say what you will about Dustin Poirier's chances this weekend in the UFC 242 main event but no one can say that he hasn't earned his spot in the limelight.
Since moving to the lightweight division following defeat to Conor McGregor at 145-pounds at UFC 178, the American Top Team fighter has been in imperious form. Save for a 90-second flash knockout at the hands of Michael Johnson in 2016, Poirier has run through his subsequent competition, with successive wins against Justin Gaethje, Eddie Alvarez and Holloway representing the best run of the Louisiana native's career.
It is notable that all of these performances have been predicated by a kickboxing first strategy which may be largely noted by Khabib Nurmagomedov's stifling grappling prowess this weekend, but if Poirier is able to continually keep his back from the cage (or even work his way to his underrated guillotine choke) opportunities for victory will be there.
First thing's first. Poirier has to be able to dole out punishment every time he gets an opportunity and his range of slick boxing and defensive posture which has proved so troublesome to his opponents in recent years could be a true difference maker — but that will be Saturday night's tale, for now sit back and relive Poirier's June performance in which he became the first man in 6 years, or 13 fights, to hand Max Holloway a career defeat.
–
Comments
comments