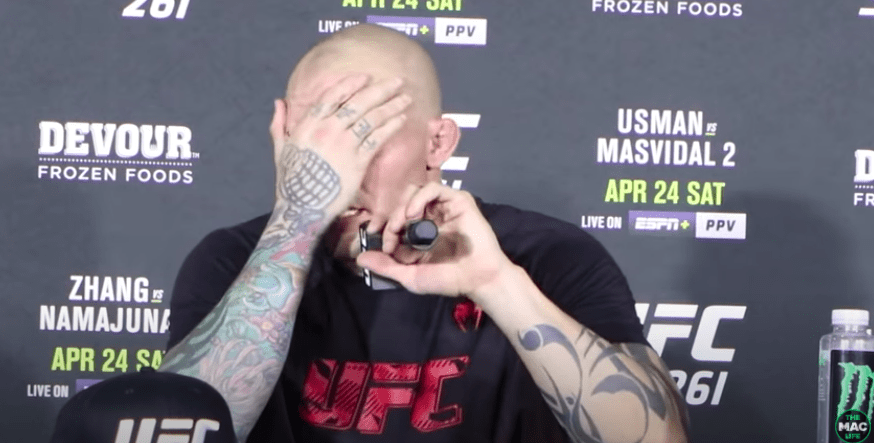 Last weekend's UFC 261 card in Jacksonville, Florida produced arguably the most eye-watering injury to take place in a UFC cage since Anderson Silva broke his leg against Chris Weidman seven years ago.
This time it was Weidman, though, who was on the receiving end of the same horrific injury, snapping his leg after connecting with an early low-kick against Uriah Hall in what can be seen as a heavy dose of cruel irony. Former middleweight champion Weidman has has surgery on the injury and now faces an extended spell on the sidelines — and Anthony Smith couldn't feel worse for him.
"Fuck man… Fuck. I did some of my training camp with Weidman. I said this during the week, I don't know how Chris Weidman has ever lost a fight after training with him. He's the best guy I've ever trained with. He just, can't catch a break. Sucks," Smith said to the media, including TheMacLife.
"Chris Weidman, maybe in the past, he's even admitted that he hasn't always put the work in. He's cut some corners, especially when he was champion. You start thinking you're so good you don't have to work as hard as everyone else. The thing that sucks is that, on top of injuries, and Chris is not the youngest guy in the world — depending on how bad it is — who knows what happens, but he really put the work in this time. Just imagine being Chris Weidman, you spend weeks and weeks and weeks training for this, you leave your family, just all the sacrifice, the pain, the sleepless nights and early mornings to go in and like your body not just hold up.
"I haven't seen it yet and I'm not sure I want to, but by the reaction of the crowd it's pretty disgusting. For just a bone to break and you don't get a shot… that sucks man. Like, just think about this, it's going to suck and he's probably going to have surgery, right? He's probably going to feel that for the rest of his life, like just to hear those cheers — that's crazy to me. I don't know why the fuck we do this sometimes, to be honest with you."
Comments
comments