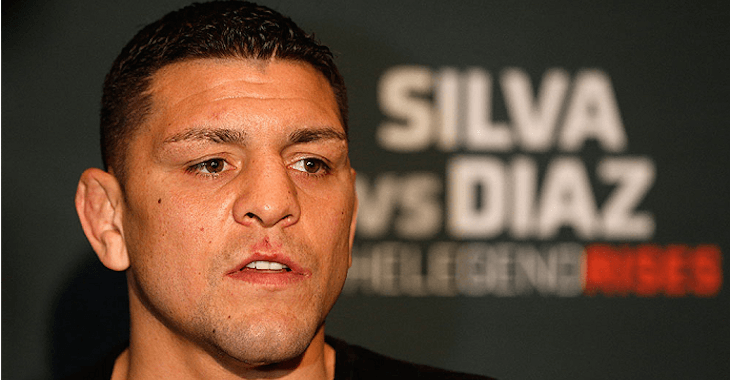 Nick Diaz's hiatus from the cage has landed him in the position as an almost mythical soothsayer on the periphery of mixed martial arts, always ready to dole out the type of talk that can only truly be delivered by a Diaz brother.
Since his last fight more than four years ago the elder Diaz has been non-committal with regard to his fighting future which had been waylaid, temporarily at least, by drawing the ire of the Nevada commission when he tested positive for marijuana following his last fight against Anderson Silva (who tested positive for PEDs).
As the years passed Diaz's status has kept him firmly in the minds of fight fans, and also his peers. One such was Colby Covington, who added Diaz to his list of recent callouts by alleging that he was too busy getting "drunk in clubs" to consider fighting again, which prompted the Stockton native to let loose when he was doorstepped by TMZ.
View this post on Instagram
"I've got (expletive) to do," Diaz said. "This whole 'I'm supposed to be fighting so-and-so or something-something' … if you want to fight, you know where to find me.
"I'm not a hard guy to find. Step in my (expletive) ring right here. Step in my (expletive) ring, bro. Come at me, bro. Come at me, bro."
One past opponent that Diaz doesn't have a problem with is Georges St-Pierre, who told Chael Sonnen recently that he is a fan of Diaz and, should the situation ever arise, he would have his back in a street fight.
"Georges, homeboy, go get yourself a job," Diaz said, referencing those comments. "Hell, they'll hire you. They won't hire me nowhere. Go get yourself a job, Georges. Have a (expletive) nice life. I just want to be positive. I like the guy. Everybody is trying to make me the bad guy.
"The thing is about homeboy, and look I'll say it right now, you have a lot of opportunities in life," Diaz said. "I never had to talk down on nobody to get to where I was at. I didn't have no (expletive) opportunity.  That's why I said, 'Are you all about it? Then come the (expletive) at me then.'
"I've got a world title right here, (expletive). Come over here and take my (expletive) title then, (expletive). My title ain't got no money on it. Come and get some. Come at me then. Step in my (expletive) ring."
Comments
comments