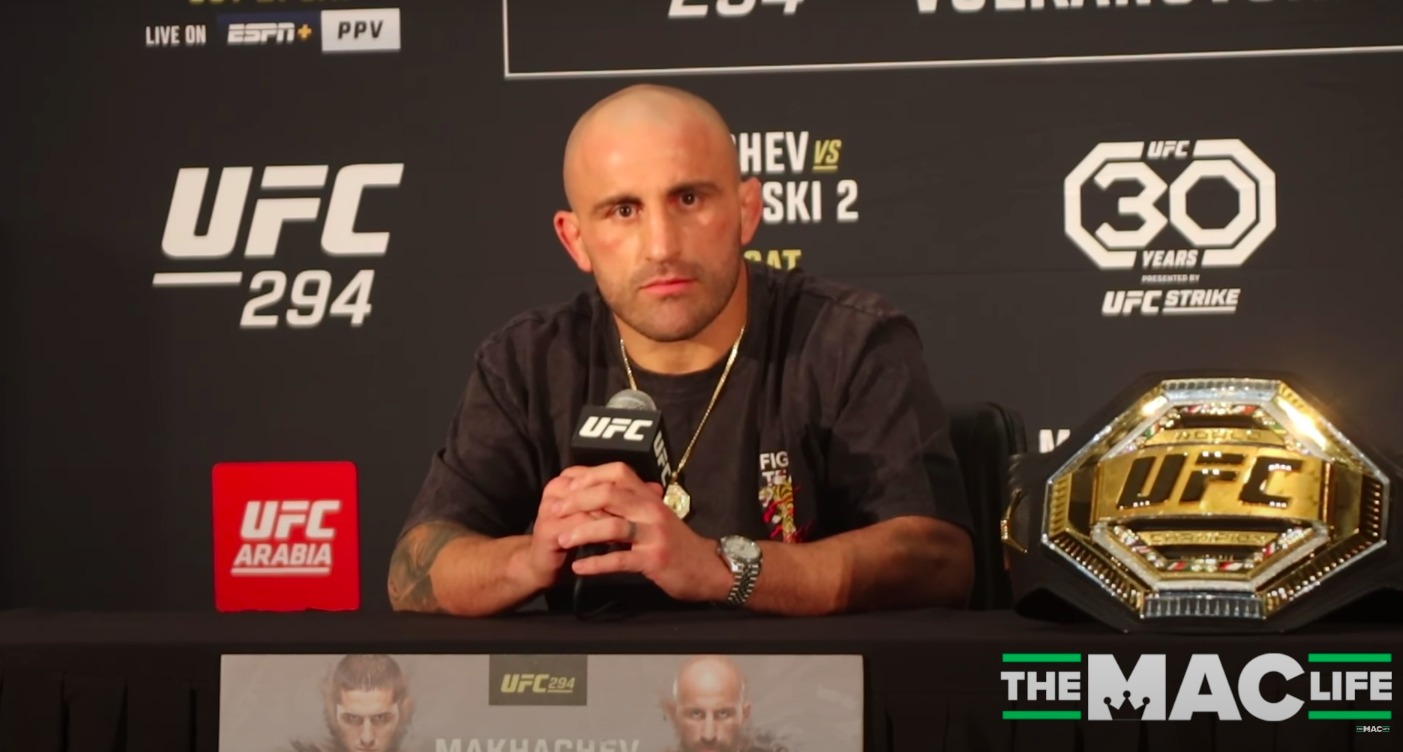 UFC featherweight champion Alex Volkanovski (rightly) deserves credit for agreeing to step in on short notice to fight lightweight champion Islam Makhachev — but says that if the shoe was on the other foot, there is little chance that the Russian champion would accept the bout.
Volkanovski will attempt on Saturday night to avenge his close decision loss to Makhachev in earlier this year in Sydney, Australia when he steps in for the injured Charles Oliveira against the reigning UFC lightweight champion. It is a fight that this time two weeks ago he had no idea he would be in but now that the opportunity has arrived sooner than expected, he says that the situation that presented itself is ideal for him to become the UFC's newest double-champion.
And speaking to media in Abu Dhabi early on Wednesday, including The Mac Life, Volkanovski said that he doesn't believe that Makhachev would have taken the same chance had he been in his position.
"I guarantee you that there is not many fighters that would do this. You heard Islam say, 'No excuses,' and things like this," Volkanovski said. "One thing I want to say is, put it this way, if the roles were reversed, this fight is not happening. I don't care what anyone says, [Islam] is not fighting on 12 days' notice. So he needs to remember that."
He added of his strategy: "In the first fight I showed him a lot of respect — well-deserved respect. But I felt like I didn't need to show him so much respect. It's pretty obvious, I'm sure they understand that I'm going to be coming for him. It's no hidden secret. I'm going to be coming full-steam ahead of him.
"I just try to be real with every situation I'm in, you know what I mean? Usually I'm preparing for the worst and I've got a lot of ways things can go. When you've got 12 days notice, there's not so much variables for me. There's not many ways I can go. Don't get me wrong, I probably could — but I can't afford to focus on any of that.
"All I can focus on is what I plan on doing. The fact that I've had only 12 days notice is going to make me so dangerous."
Comments
comments