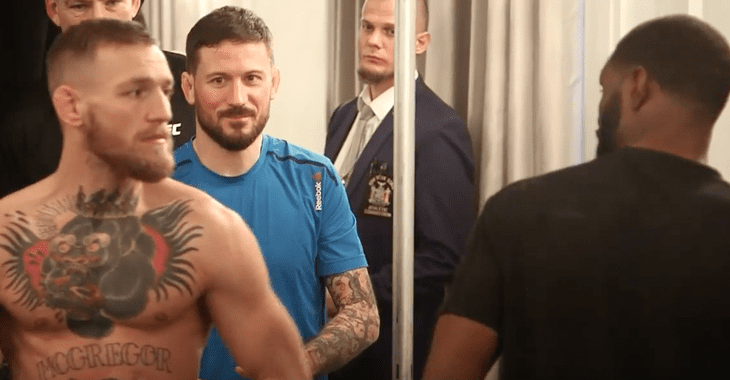 Since winning the UFC welterweight title from Robbie Lawler in the summer of 2016, Tyron Woodley has made no bones of his desire to secure one of the commodities to have become popularized in mixed martial arts in recent years — the oft-desired, but rarely seen 'money fight'.
Nick Diaz and Georges St-Pierre have both, at one time or another, been firmly fixed in Woodley's cross hairs but neither of those fights look likely to coming to fruition any time soon, so that leaves the biggest money fight of them all — Conor McGregor.
Since becoming champion, Woodley has faced Stephen Thompson (x2) and Demian Maia, both of whom are supremely accomplished martial artists but lack the superstar status which Woodley appears to courting.
The Irishman, the UFC's first simultaneous two division champion, is the focus of continued speculation as to the identity of his next opponent. Conventional logic suggests that it will be one of Tony Ferguson or Khabib Nurmagomedov, with the UFC's lightweight title on the line but Woodley contends that if McGregor wants to chase what would be a groundbreaking accomplishment of a THIRD UFC title, he is more than willing to agree to the fight.
"He likes to make history, he likes to break records," Woodley said of McGregor on Fox Sports. "I say strip him. Then let him come up to welterweight and try to come for a third belt."
"@thenotoriousmma likes to make history, break records…I say strip him, and then let him come up to welterweight and try and come for a third belt." – @twooodley

😲😲😲 — @karynbryant https://t.co/OleiSrdPhH

— FOX Sports: UFC (@UFCONFOX) January 11, 2018
Well, McGregor will certainly like one part of that statement and not the other.
Comments
comments