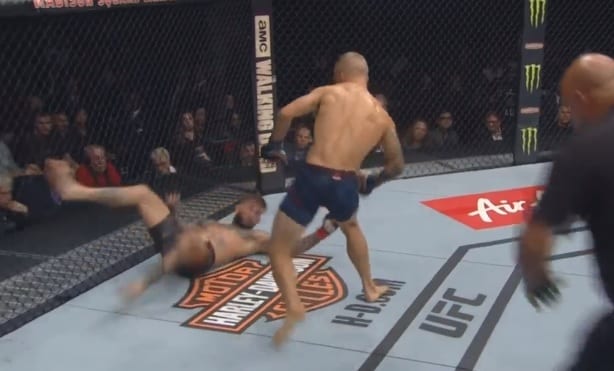 After all the talk of knockouts in the training room, T.J. Dillashaw got it done when it really counted. 
In a night of stunning fights inside Madison Square Garden, former 135-pound champion Dillashaw regained the title he lost to Dominick Cruz in January of last year in emphatic fashion, knocking out former teammate and arch rival Cody Garbrandt inside the second round at UFC 217.
Garbrandt started emphatically, controlling the pace of the fight and dropped Dillashaw with a high kick on the bell. Dillashaw appeared to stagger backwards as the round ended and was greeted with a middle finger from his opponent as the two corners entered the cage.
Dillashaw began the second flat-footed, perhaps still recovering from the kick from Garbrandt 60 seconds prior. Soon though, he would come into his own.
The former champion retaliated with a high kick of his own, felling the champion who soon regained composure and got back to his feet. A right hook shortly thereafter sent Garbrandt to the canvas once more and this time Dillashaw pounced, forcing referee Dan Miragliotta to call the bout at the 2:41 mark of the second round.
and JUST LIKE THAT!!!#UFC217 pic.twitter.com/yFvdEpFZkZ

— UFC Aus/New Zealand (@UFC_AUSNZ) November 5, 2017
Live and Die by the sword! I will be back, thanks for all the love and support!! Congrats to @TJDillashaw

— Cody Garbrandt (@Cody_Nolove) November 5, 2017
.
Comments
comments