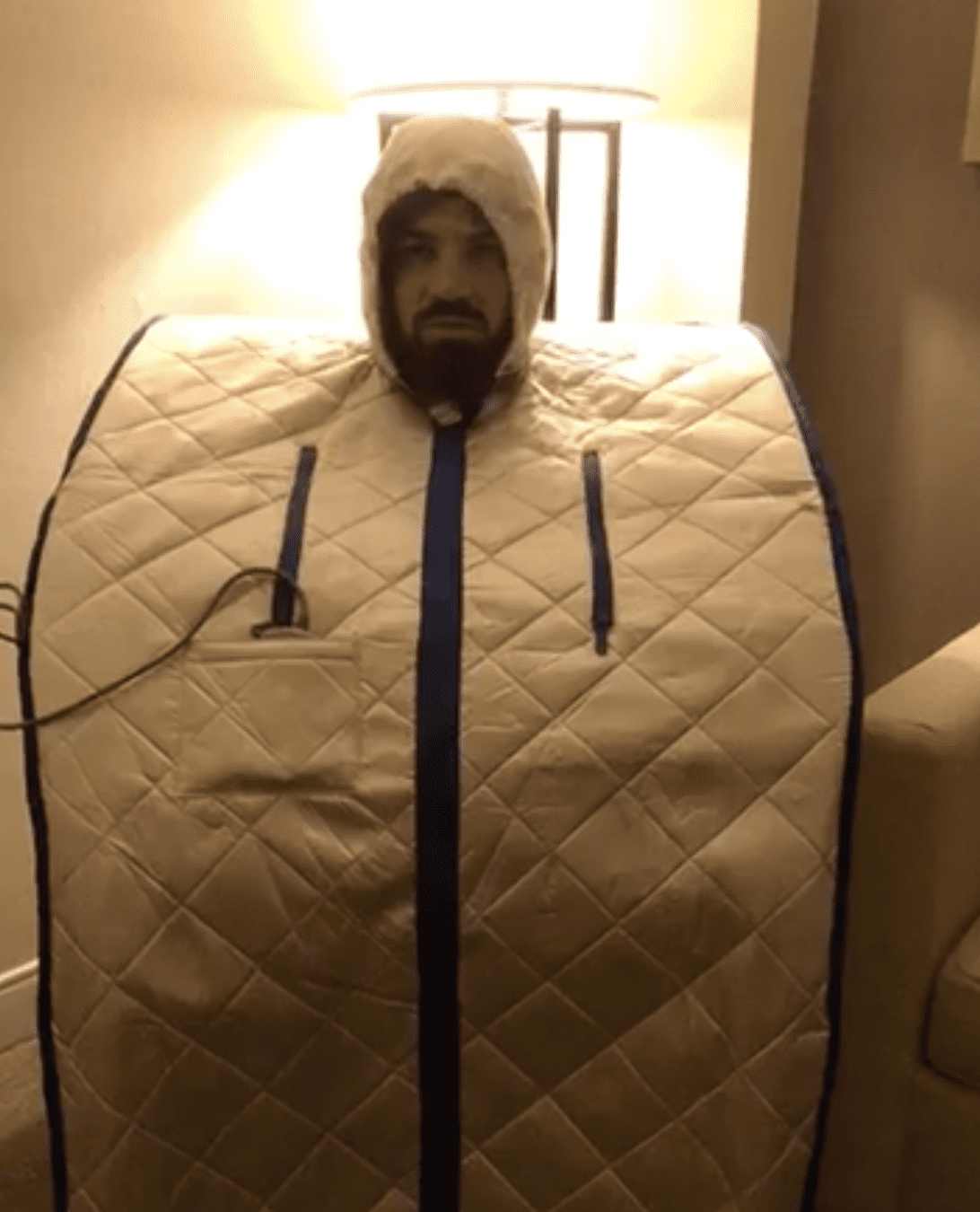 Mike Perry isn't necessarily a national treasure, but he is something of an gold quote machine.
Since his arrival in the UFC last year, the up and coming welterweight has won over a swathe of fans in the MMA world for a couple of reasons. Firstly, the unbelievable violence he brings into the Octagon. Secondly, he's also a wonderful well of one liners and philosophical viewpoints.
Ahead of his fight with Santiago Ponzinibbio at UFC Winnipeg this Saturday night, Perry took part in a question and answer session from a portable sauna. Whether or not it was the heat, or just the quirky nature of his own personality, the man they call Platinum was on fire.
Some of the highlights include a fan called Garrett asking Perry who'd he be fighting next, which earned the reply:
"I'm fighting Santiago Ponzinibbio next, because thats what's going down Saturday, you impatient motherfuckers. What's wrong with you? I'm fighting Saturday. Are you not.. what the fuck is the matter with you, Garrett? Damn. Can I finish this fight? Can I go out here and fuck this guy up first, and see who the UFC calls and how much money they want to pay me next?"
Or when he was asked what his spirit animal was, and Perry responded with absolutely no hesitation:
"Orca. 'What is an Orca?' you may ask. It is a killer fucking whale. I'm going to crush this motherfucker. … I've already said I'm going to powerbomb this motherfucker like an Orca."
But while those might have been entertaining little replies, the real gem was when Perry — clearly in the festive spirit — burst into his own rap version of Jingle Bell Rock. Here are the lyrics in case you fancy sharing them on a hymn sheet this Christmas.

Jingle bell, jingle bell, jingle bell rock.
Your mom sucked my cock.
She liked it a lot.
What you know about that?
I'm the motherfucking man,
and I'm getting paid more than you can
'cause I fuck motherfuckers up with my hands.
I beat their ass quick,
and they cut me a cheque,
and I spend it on my chick.
So, I can't wait to eat some chicken nuggets –
dip that shit in some ranch and eat some orange juice, man.
I'm so fucking hungry and I'm so fucking thirsty,
I'd love to have some water,
but I have to wait 'til the morning
Before summing it all up with the wonderful:
"How you like that shit? Remix, motherfuckers."
Comments
comments