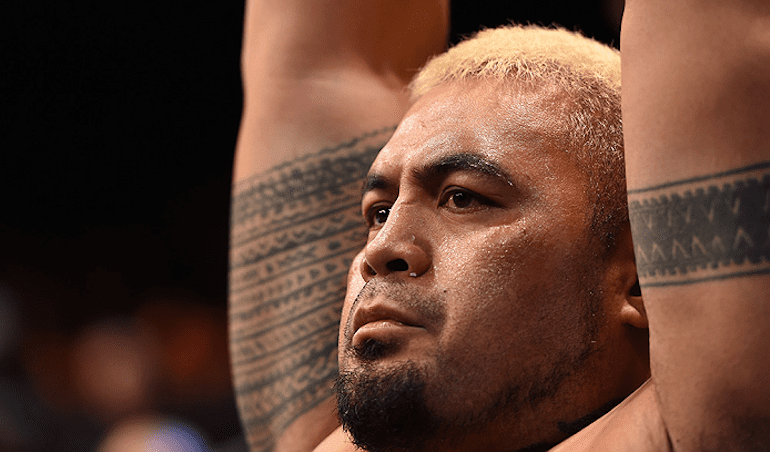 Well, it might have gone longer than most thought, but Mark Hunt and Derrick Lewis put on an entertaining scrap in Auckland, New Zealand on Saturday night.
The two heavyweights were the main event of UFC Fight Night 110. and
It started off close. During the first, just as in his fight against Alistair Overeem, Hunt checked a leg kick resulting in his shin beginning to pour blood. In response, Lewis appeared to be trying to mix up his offence far more than in some of his recent appearances, and he threw numerous kicks throughout the fight.
.@MarkHunt1974 wobbles Lewis in the 2nd at #UFCAuckland! pic.twitter.com/uTV9E3iMAM

— UFC Canada (@UFC_CA) June 11, 2017
Now @TheBeast_UFC lands big shots on Hunt! Back & forth fight!! #UFCAuckland pic.twitter.com/rxJs9NpwXk

— UFC (@ufc) June 11, 2017
In the end however, it was perhaps the kicks that worked against Lewis, who visibly tired in the third round, even putting his hands on his hips on occasion while drawing breath.
During the fourth, Hunt began to pile on the pressure, and Lewis wilted further and further. While it might not be the kind of stoppage fans are used to seeing, referee Mark Goddard stepped in and waved the fight off earning a nod of appreciation from Lewis himself.
TKO!

The Super Samoan @markhunt1974 finishes off @thebeast_ufc with a flurry in the third round! #UFCAuckland https://t.co/8F1K7JtNBF

— FOX Sports: UFC (@UFCONFOX) June 11, 2017
🐐 Quote a la @MarkHunt1974 #UFCAuckland pic.twitter.com/WFGd2eRgEr

— UFC (@ufc) June 11, 2017
—
Comments
comments