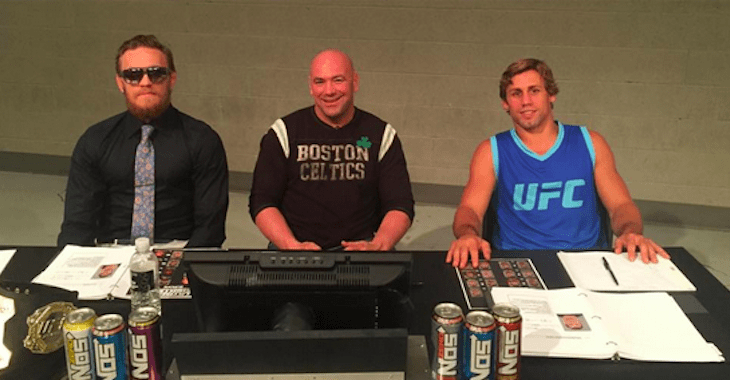 As the new season of The Ultimate Fighter approaches, it seems as good a time as any to revisit some of the classic moments in TUF history.
Plenty of seasons have had amazing chemistry (and animosity) between the two team coaches, dating all the way back to season 1 with Chuck Liddell and Randy Couture in 2005. Other examples of classic duos include Quinton Jackson and Rashad Evans, Michael Bisping and Jason 'Mayhem' Miller and of course Conor McGregor and Urijah Faber.
The two men coached the show in the immediate wake of McGregor's win over Faber's teammate Chad Mendes at UFC 189. While plenty of seasons have had tension between the featured stars, McGregor and Faber's season 22 drew in fans for another reason — banter.
"Conor and I would always have conversations when we meet in the middle," Faber said in a video posted by the UFC. "That's the time we'd talk, and we'd have cordial conversations. … I wasn't slated to fight Conor, I was there to hang personality and banter-wise with one of the best in the game."
Not that it was always easy.
"It's hard for someone to get under my skin," Faber said. "But Conor's very good at getting under other people's skin."
In the end though, the two kept a decent rapport throughout filming and have been seen cracking jokes at each other ever since.
"That dude is a crack up," Faber said. "The banter back and forth was classic."
Comments
comments