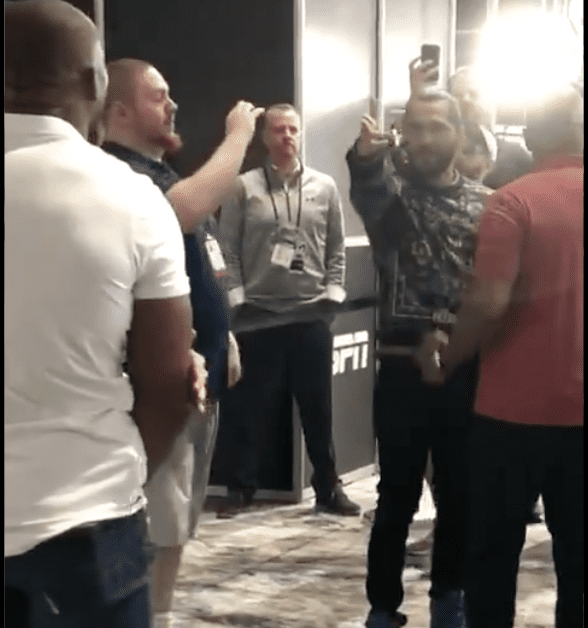 Jorge Masvidal and Kamaru Usman just got each others attention.
The pair, likely set to fight for Usman's UFC welterweight championship, have been linked together ever since Masvidal defeated Nate Diaz in New York last year. While the two have been firing off shots at each other since Masvidal's contendership became apparent, up to now, we've not seen the two interact in person.
Today, at a radio event for Sunday's Super Bowl, the two crossed paths. It wasn't without incident.
In videos posted by ESPN's Ariel Helwani and USA Today, the two are seen being separated after a verbal conversation appeared to escalate. In the footage, Usman is seen telling Masvidal to do something, while Masvidal himself appears frustrated with the people in between him and the champion.
Check out the altercation in the videos below:
Jorge Masvidal and Kamaru Usman just got into a verbal confrontation at Super Bowl radio row. (🎥 @JoshAppel) pic.twitter.com/K6kqTnpXyC

— Ariel Helwani (@arielhelwani) January 29, 2020
At Radio Row and two UFC fighters who I've been assured are super important starting yelling at each other. (I don't follow MMA) pic.twitter.com/OtO4OgINd3

— Geoff Schwartz (@geoffschwartz) January 29, 2020
Another angle (🎥 @fanaticsview) pic.twitter.com/On764jyuXd

— Ariel Helwani (@arielhelwani) January 29, 2020
For those interested in the dialogue, it goes as follows:
Usman: "Do something. I'm standing right here. Do something. You're making hand gestures, do something."
Masvidal: "Bitch. Nah, I'm gonna kill you. I'm gonna fuck your ass up. You're talking all that shit. Now I can't hear you."
Usman: "Talking. That's all I hear you, talking."
Masvidal: "I can't hit you now, you got a cast on, bitch. You got a cast on, bitch. I ain't gonna take advantage of you like that.
Usman: "You come up talking, do something. You talking tough."
Masvidal: "You're the one walking away. [UFC PR] pushed you back? You got a cast on, bitch. You're lucky, that's the only reason nothing's happened to you."
Usman: "Oh you scared of the cast? That's what I thought."
Comments
comments