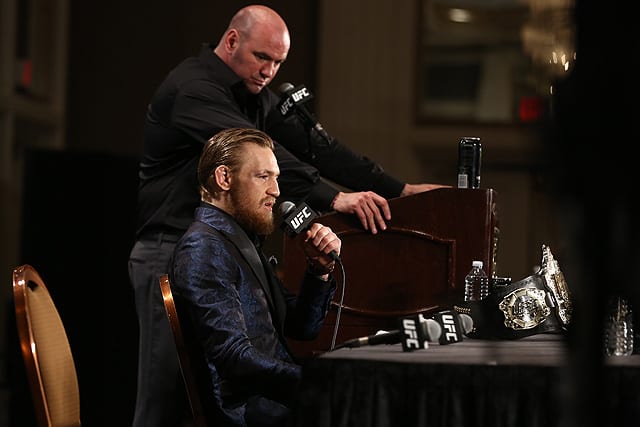 UFC president Dana White is about to have an interesting few days. 
The head honcho of the biggest mixed martial arts company in the world is about to jet around from city to city alongside his UFC lightweight champion Conor McGregor as the media tour for McGregor vs. Floyd Mayweather gets underway.
While White doesn't necessarily look forward to the grandstanding that comes with boxing promotional conferences, he does have the best seat in the house to watch Conor McGregor work his magic as the mind games with one of the best boxers of all time begin.
According to Dana White, who spoke on "Speak For Yourself" last night, he anticipates the usual McGregor antics.
"Conor is a mad man," White said. "Conor is very — you know, he's going to let Floyd know what he's gonna do and how he's gonna do it. Everybody's been saying to me this whole time 'do you think that Conor can really beat Floyd Mayweather?', [well] Manny Pacquiao just got beat by a school teacher.
"I stopped doubting Conor McGregor a long time ago."
And where does White's confidence in McGregor being his usual unforgiving self? A chance meeting at Los Angele airport, where the Irishman immediately informed White of his fight prediction.
"So last night, I landed at LAX, and Conor landed at the same time from Ireland," White said. "We both landed at the same time, and I was waiting for him to get out of the plane. He gets off — flight from Ireland — looks like he was just fitted at Armani. Walks off the plane, and he says 'I will knock this man out in four rounds'."
—
Comments
comments