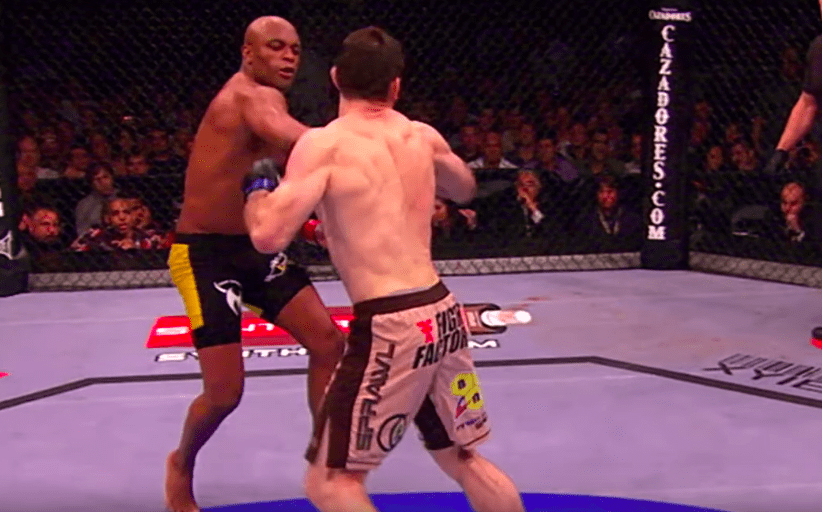 Way back in 2006 when a skinny Brazilian named Anderson Silva made his UFC debut few could have predicted the impact that he would have over the next decade and change. 
His first opponent was a fighter with a shock of dyed red hair, Chris Leben, who had won his first five official UFC bouts and was 15-1 overall. The aggressive striker had promised a first round stoppage of the newcomer, arguing that the competition that Silva had faced to that point in his career paled in comparison to the challenges that the UFC had to offer.
He couldn't have got it much more wrong. The fight lasted less than a minute, with the iron-chinned Leben dropped on multiple occasions before Silva brought the bout to its merciful conclusion. It was the start of an unprecedented reign of success in the UFC's middleweight division which would see the Brazilian win 16 straight fights.
All things, they say, must pass and Silva's first occurrence of mortality was visible in a last-minute, come from behind submission victory against Chael Sonnen would soon be followed by a first UFC defeat at the hands of Chris Weidman. A gruesome leg break in the rematch ensured a second straight defeat. Defeats against Michael Bisping, Daniel Cormier and a no-contest (originally a win) against Nick Diaz followed.
However, throughout all the ups and downs of Silva's fight career thus far he has never been placed in a position like the one he is in this weekend against Israel Adesanya. The New Zealander (by way of Nigeria) has been firmly placed in the 'next Anderson Silva' category by some sections of the media — something of which his tape offers compelling evidence. Like Silva, Adesanya is a flashy, rangy striker who owns a mastery of distance and unorthodox striking. These are the very factors which stood Anderson Silva out from many of his peers.
So, the question this time around is Anderson Silva still himself or is he playing the Chris Leben role this time around? We will find out on Saturday night.
Meanwhile, remind yourself of his talents with the clip below:
–
Comments
comments